Regional air travel company Surf Air Mobility has filed to become a publicly traded company and acquire Southern Airways, which uses a fleet of mostly Cessna Caravans to fly passengers throughout the USA.
The Los Angeles-based company on 5 June filed a registration statement with the US Securities and Exchange Commission "relating to the proposed direct listing of its common stock" on the New York Stock Exchange.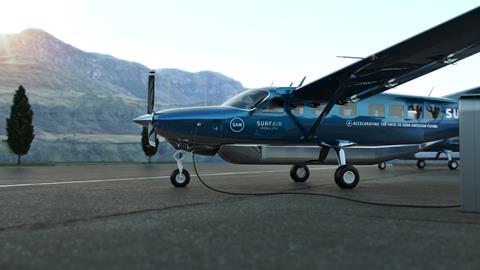 Southern Airways will become a wholly owned subsidiary of Surf Air Mobility "immediately prior to the listing", the SEC filing says, which would complete a deal first disclosed in May 2022.
Surf Air's stock listing is conditioned upon closing its acquisition of Southern Airways, which is in turn pending regulatory approvals. The company says its sale to the public will occur "as soon as practicable after this registration statement is declared effective".
Florida-headquartered Southern Airways Express flies passengers using a fleet of 50 regional aircraft, including about 40 Cessna Caravans, according to Cirium. Southern also operates inter-island flights in Hawaii under the Mokulele Airlines brand.
Between the two operations, Southern has a network of 44 cities and more than 200 daily departures. "The Southern acquisition will result in a combined regional airline network servicing US cities across the mid-Atlantic, Gulf [Coast], Midwest, Rocky Mountains, West Coast, New England and Hawaii," Surf Air says.
Fitting broadly into the emerging regional air mobility (RAM) segment, Surf Air is a membership-based air travel company through which members can book flights with third-party Part 135 operators. The company is working to further develop its consumer-facing booking platform enabled by its Surf Air smartphone app. Currently, its on-demand and scheduled flights operate primarily in California.
On a parallel track, Surf Air says it is "expanding the category of regional air travel and reinventing flying through the power of electrification". The company is developing new powerplant technology with its commercial partners to electrify existing turboprop fleets, starting with hybrid-electric and fully electric variants of the Cessna Grand Caravan.
The company is planning to achieve Federal Aviation Administration approval of both variants by the end of 2025, and then commercialise the technology. "Surf Air expects to incur significant costs in the future to support development of this technology," the company says.
Electrifying regional aircraft already in service is a concept also being explored by fellow RAM start-ups, such as Australian powerplant developer Dovetail Electric Aviation and California-based propulsion system developer Ampaire.
In October 2022, Surf Air secured $450 million in financing over six years from Jetstream Aviation Capital to fund the planned growth of its fleet of turboprop aircraft. Under the agreement, Surf Air has access to the financing for six years for both new and used Cessna Caravans and Pilatus PC-12 single-engine turboprops.
Surf Air reports generating $20.3 million of revenue for the full year of 2022, compared with $11.8 million the previous year.