Taichung international airport is to get a third passenger terminal, as it prioritises restoring – and expanding – international flights in the coming months.
The disclosure, made by Taiwan premier Chen Chien-jen, comes as the airport completes upgrading works to its existing facilities. The upgrade project, which began more than three years ago before the coronavirus pandemic, costs more than NT$1 billion ($34.6 million).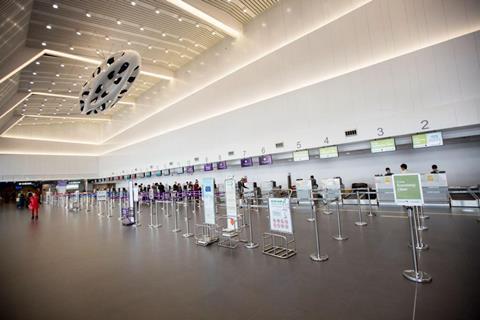 The upgrades take the airport's annual capacity from 2.9 million passengers to nearly 3.7 million passengers. The airport's international and domestic terminals were also connected, allowing for "more efficient operations", says the Civil Aeronautics Administration of Taiwan.
Chen, who visited the airport on 10 July, says Taichung will get a third terminal, amid optimism of a strong travel rebound, though he did not specify an expansion timeline. In pre-pandemic 2019, the airport handled 2.8 million passengers.
Pointing out that Taichung is located near the precision machinery industry in central Taiwan, Chen says: "Investing in Taichung is also investing in the future of Taiwan."
The expansion of Taichung airport will also help alleviate the capacity constraints at Taipei's Taoyuan international airport, as passengers can choose to enter the island via Taichung, adds Taiwan transportation and communications minister Wang Kwo-tsai.
Taichung is currently connected to four international points: Hanoi, Ho Chi Minh city, Macau and Hong Kong.
Wang says the airport's key focus now is to restore international flights that were suspended amid the pandemic. To this end, charter flights from Nagoya, Busan, Jeju and Da Nang are due to commence in the coming months.
The upgrade of Taichung airport comes as Kaohsiung airport in the south of Taiwan begins expansion works. The CAA says work to build a new passenger terminal will commence this year, and will take the annual passenger capacity to about 16.5 million, about double the number of passengers it recorded in 2019.