Airbus is approaching completion of the full transition to A320neo-family production, with fewer than 40 original A320-family aircraft left undelivered – most of which are likely to remain so.
The backlog of the older-generation aircraft comprises 18 A321s and 18 A320s, plus three A319s, with Delta Air Lines the primary recipient, analysis of Airbus's latest order and delivery figures shows.
All nine A321 deliveries made last year went to the US carrier, as did all 11 A321 deliveries over the first four months of 2021. Delta has a backlog of 11 A321s.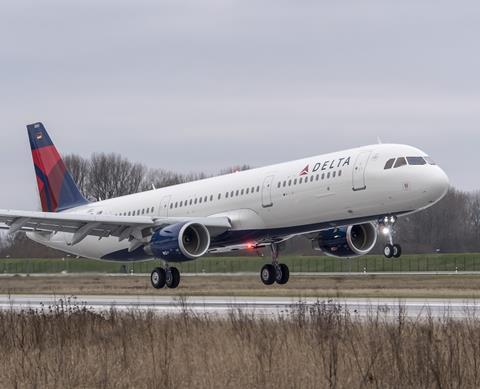 Iran Air is the only other customer for the A321. The flag-carrier has seven A321s outstanding as well as six A320s.
Although Iran Air received a new A321 in early 2017, during a period when sanctions on the Iranian government were eased, the subsequent re-introduction of restrictions in 2018 halted any further deliveries and means none the remaining aircraft is likely to be handed over in the short term.
Four A320s are assigned to Mexicana, but the carrier collapsed several years ago, while Airbus lists another seven against Russia's Ural Airlines – an order which has remained dormant since it was placed in 2007.
Ural Airlines is an all-Airbus operator but has been renewing its fleet by leasing modernised A320neo-family jets.
Another collapsed operator, Hamburg International, which filed for insolvency more than a decade ago, accounts for two undelivered A319s.
One other A319 is assigned to an undisclosed customer and a single A320 is listed against the Chinese state aviation supplies company CASC.
Airbus delivered its most recent A319, to Tibet Airlines, in March but has not delivered an A320 since a handover to Chengdu Airlines in October last year. The last delivery of an A318, the fourth member of the family, was made in April 2015 to a private customer.