Taiwan's Civil Aviation Administration (CAA) saw an increase in airline service fees collected in the January-July period this year, with cargo operators still holding strong despite a softening freight market.
In a statement issued 18 August, the agency notes that while Taiwan's three largest carriers – China Airlines, EVA Air and Starlux Airlines – were still the largest contributors to service fees, cargo operators UPS and FedEx remained in the top 10 carriers by service fees collected.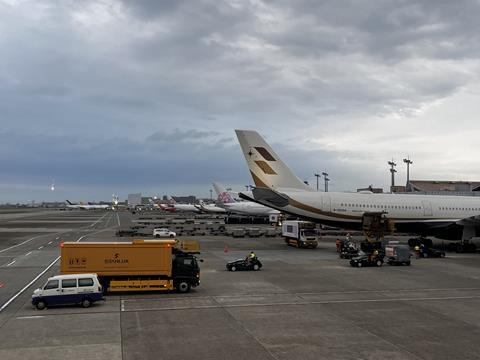 The CAA, which did not disclose a breakdown of fees by airline, says this underscores the fact that "cargo operators still attach great importance to the Taiwanese market".
In the January-July period this year, the CAA collected NT$890 million ($27.9 million) in service fees, or about 80% that of pre-pandemic 2019.
The agency also disclosed that overflight fees have risen following the reopening of borders in the region. It collected more than NT$1 billion in overflight fees in the first seven months of the year, about 75% pre-pandemic levels.
The CAA highlights the trend of more low-cost carriers overflying Taiwan. By total overflight fees paid in January-July, there were five low-cost carriers in the top 10, says the CAA. Vietnam's Vietjet Air, for instance, rose to fourth position, following a ramp-up on flights to North Asia.
South Korea's T'way Air is now seventh on the list by overflight fees paid, where it was out of the top 10 in pre-pandemic 2019.
The CAA says this points to "changing traveller preferences" post-pandemic, with higher fares impacting travellers' carrier choices.