Textron Aviation has secured certification for its SkyCourier twin turboprop from the National Civil Aviation Authority of Brazil (ANAC), clearing the way for operations in that Latin American country.
"The Cessna SkyCourier's high payload capacity, short take-off and landing capability, and cost-efficiency make it a great choice for operators in Brazil," Lannie O'Bannion, senior vice-president for global sales and flight operations at the Wichita-based airframer said on 8 August. "The aircraft's versatility and performance equip customers in the region with smart solutions for their unique missions and circumstances."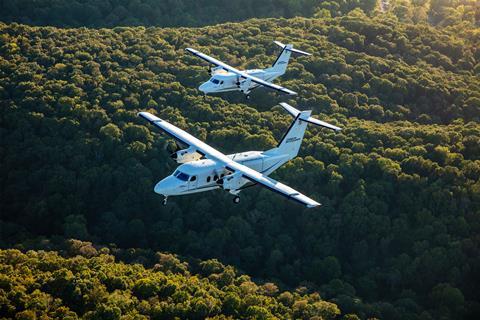 Textron adds that the SkyCourier is an "ideal fit for Brazil's diverse geography, remote locations and growing demand for air transportation". Earlier this year, the manufacturer introduced a "gravel kit option" for the aircraft, that allows it to operate on unpaved surfaces in remote areas.
Textron Aviation delivered the first passenger variant of its Cessna SkyCourier turboprop to Hawaiian charter operator Lanai Air in May. That shipment marked the next evolution of the SkyCourier programme following handover of more than a dozen cargo-configured variants.
Textron Aviation obtained certification for the clean-sheet SkyCourier in 2022, delivering the cargo-configured aircraft to FedEx the same year.
The manufacturer has long marketed the SkyCourier as a passenger aircraft suitable both as a 19-seat airliner and as a corporate and executive transport with a lower-density interior.
Powered by twin Pratt & Whitney Canada PT6A-65SC turboprops, the aircraft has range of 900nm (1,667km) and can cruise at "more than 200kt (360km/h). The type has Garmin G1000 NXi avionics and the freighter version can hold up to three LD3 shipping containers with 2,727kg (6,000lb) of payload.
Textron Aviation is also working on a quick-change interior to allow the rapid reconfiguration from cargo to passenger transport.