The Association of Asia Pacific Airlines (AAPA) sees the establishment of travel bubble arrangements – such as the recently announced example between Singapore and Hong Kong – as a "big step in the right direction" to restarting cross-border travel amid the coronavirus outbreak.
Speaking to reporters following the group's annual meeting of presidents, AAPA chief Subhas Menon adds that the Singapore-Hong Kong travel bubble arrangement, which sees quarantine measures eased in place of testing, will "be a spark" for other countries to follow suit.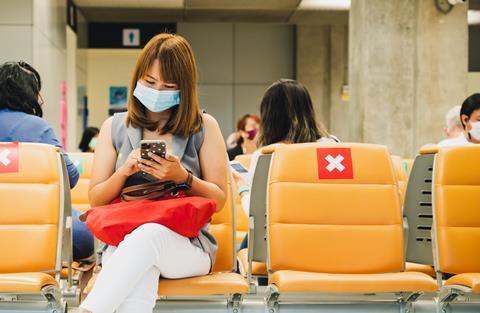 "I think it will also be a spark…for other countries in the region to consider, you know, because this is an example of how risk assessment has been applied to restart travel," Menon, who took helm of the trade association in March, says.
"What we want to see is more countries adopting a similar risk assessment [and] risk management approach, [an] 'equal risk equal response' strategy to start travel bubbles… at least it shows a way to move forward," he adds.
Still, Menon urged more governments to "move beyond" merely having essential travel arrangements, such as green lanes for business travel.
While he believes that "we shouldn't compartmentalise any portion of the travel market", Menon says that indications of strong domestic travel rebound in various Asia-Pacific markets show that "the penchant for travel is no less among leisure travellers than it is among business travellers".
He adds: "I think the nature of the travel market is that people will travel for various reasons… so you have to set the tone for it, you have to make sure that the protocols and the frameworks are in place, and then let people decide. You should also make the data and information transparent, so people can look at it and decide…whether it is in their interest to travel.
"I would say personally, no, we shouldn't be looking at one type of travel or another type of travel, but rather, provide the conducive environment for travel to take place," Menon says.
While domestic travel has been a silver lining for several member carriers, Menon believes it "can only go that far" in revitalising stricken economies.
"Staycations and self-sufficiency will only make the world poorer, and I think the coin will drop with countries and they will also start focusing on international travel very soon," Menon told reporters.
This year, the grouping – comprising several major carriers in the region – adopted several resolutions, a significant number of them related to the coronavirus outbreak, which has all but pummelled member carriers.
Resolutions include calls for the setting up of a "robust international testing framework" for pre-departure coronavirus tests, as well as calls on greater governmental support for member carriers.
The AAPA also reiterated its calls for "harmonised and coordinated" travel restrictions among countries in the region, "so that they are targeted, balanced, transparent and flexible in duration".
Menon notes that while the Asia-Pacific region has the lowest infection rates per 100,000 among regions worldwide, its border closures have been among the most onerous. This, in turn, was harming its carriers, with Menon stressing that extended border closures will "adversely impact economies and livelihoods".
This year's AAPA meeting of presidents was to have been held in Fukuoka in Japan, but had to be moved virtually, owing to pandemic-related travel restrictions.
This was also the second consecutive year the meeting had to be held behind closed doors: last year's AAPA meeting, which was supposed to be held in Hong Kong, had to be cancelled owing to political unrest in the city.