A UK company planning to bring a 70-plus-seat hybrid-electric regional aircraft to market by 2028 has laid out its detailed plans for the programme, which will include demonstrator flights from 2024 and will cost a cool $5 billion to bring into series production.
Unveiled during the FIA Connect virtual Farnborough air show in late July, the Hybrid Electric Regional Aircraft (HERA) is being developed by Electric Aviation Group (EAG), a company spearheaded by founder and chief executive Kamran Iqbal, who has significant experience in the aerospace sector, predominantly working for Airbus. Other members of the firm's leadership team have also amassed long stints working at the European airframer.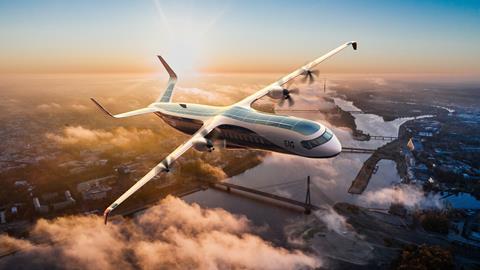 The all-composite HERA design is driven by four electric propulsors – the inboard pair are powered by 1.5MW electric motors, while the outboard units are each sized at 0.5MW. A pair of 2MW turbogenerators are housed in the inboard nacelles, supplying electrical power to all four motors. A separate battery pack is located in the aircraft's fuselage and wings, providing take-off and emergency power.
Crucially, the design only uses around 30% of the battery's charge during a typical mission, giving sufficient reserves for a 50nm (92km) diversion, plus a 20min hold.
Battery depletion will occur only during take-off. Initial acceleration is provided by the company's Gear Assisted Take-Off Roll (GATOR) system, using the batteries to power electric motors on the landing gear, taking the aircraft to around 60kt (111km/h). At that point, the propulsors are brought on line, again powered by the batteries, for the subsequent 1-2min of the climb, before switching to electricity from the turbogenerators.
"It has so many benefits: it is good for noise, short take-off performance, and energy saving as well," says Iqbal.
Additionally, using what EAG calls its Potential Energy Recovery System (PERS), the outer propulsors will effectively be turned into wind turbines during the descent, generating sufficient electricity to fully replenish the batteries by the time the aircraft lands. That, says Iqbal, should eliminate the need to change or recharge the batteries when on the ground, cutting turnaround to a typical 20min and allowing the aircraft to serve remote airfields without charging infrastructure.
Both GATOR and PERS are still in development and are the subjects of some of the 25-plus patent applications filed by EAG, which also cover noise reduction and power management technologies.
It also intends to "future-proof" the aircraft, enabling easy conversion to full-electric power or fuel-cells, should alternative energy sources become available. For example, the wing is sized to accommodate future battery packs in place of the standard fuel tanks.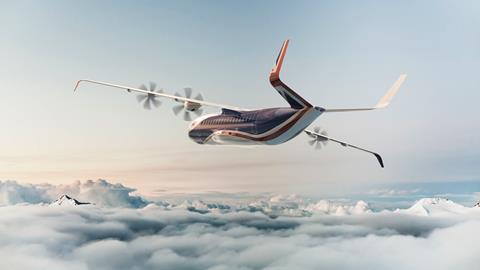 Under its plans, the technology and integration readiness levels of its inventions will be matured on a pair of demonstrator aircraft: modified four-engined De Havilland Canada Dash 7s sourced from the second-hand market.
One will serve as an "iron bird" ground-test asset, while the other will be a flight-test vehicle. In addition, EAG intends to first validate the technology on a digital simulation model it dubs the "silicon bird", or airframe zero.
EAG's timeline calls for ground testing of the technologies to begin next year, leading to flights of the demonstrator aircraft from 2024.
Meanwhile, EAG is also involved in a separate initiative which it hopes will enable the early maturation of all powertrain options, including hydrogen fuel cells. Working with a number of hydrogen powertrain specialists, the effort envisages a series of flight tests using a De Havilland Canada Dash 8-400 and the company is hopeful it could lead to a retrofit solution for the twin-turboprop type and a potentially lucrative revenue stream. In addition, the widespread adoption of such technology would enable inroads to be made into carbon dioxide and nitrous oxide reduction targets much earlier than 2028.
"We may be able to deliver this much more quickly than the HERA programme," says Iqbal.
With a 70-plus-seat capacity, the HERA is aimed squarely at the regional turboprop segment currently dominated by the ATR 72 and the Dash 8-400.
Iqbal says the "ready-made replacement market" for the in-service fleet of around 3,000 aircraft is worth a total $80 billion, or $54 billion for the 1,800-strong ATR inventory alone. On top of that, EAG argues that the HERA's operating economics, and ability to operate from runways of less than 1,200m (3,940ft), would stimulate additional sales, making the total market opportunity "worth well in excess" of that $80 billion figure.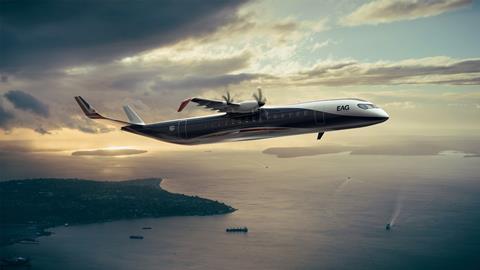 Although the decision to focus on a hybrid of around 70 seats appears obvious, Iqbal stresses that the aircraft's size was driven by analysis of the technology available. "With all the near-term available technology, what aircraft size can we practically and pragmatically deliver in this decade?" he says.
Underpinning the size and architecture is a "very conservative" view of battery power density improvements. EAG believes a figure of 500Wh/kg is "very ambitious" even by 2030; its design instead is built around a figure of 250Wh/kg at pack level.
Using the lower power density as a base for its calculations, EAG's analysis suggested that an all-electric 20-seat aircraft would, when the required reserve power is factored in, be limited to sector lengths of an impractical 20nm (37km); "you can't fly a meaningful distance", says Iqbal. And if that is the case with a 20-seater, developing a larger electric-powered design "is even more difficult", strengthening the case for a hybrid-electric architecture.
Range and cruise speed figures initially matching those of the ATR 72 – respectively 800nm and 275kt – are achievable at service entry in 2028, believes Iqbal, with range growing to 1,200nm as battery power density improves. Even with 3.5t of batteries on board, maximum take-off weight will also be in line with the ATR's 22.8t.
EAG claims that the HERA will offer airlines the possibility of increasing revenue by 50% over standard turboprops. That is based on the aircraft's low-noise performance – a claimed 40% quieter than an ATR 72 – enabling a wider operational window from otherwise restrictive airfields; it calculates this could be up to 15h per day, versus 10.5h for a typical turboprop airliner. Additional revenue could be generated by use of the planned "cabin-flex" version, which can be quickly converted to a freighter for nighttime operations.
But Iqbal is at pains to point out that EAG's calculations do not factor in any potential fuel saving from the use of the hybrid architecture, which it estimates will be about 15% at service entry assuming a battery energy density of 250Wh/kg on a typical 300nm sector.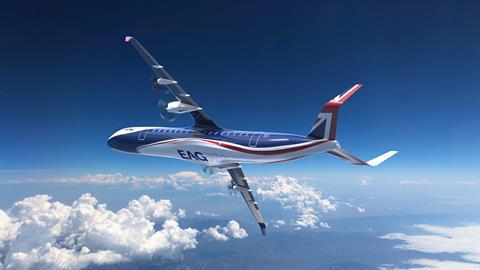 While many aviation start-ups appear to have little idea of how much it will cost to bring their products into production, EAG's $5 billion estimate – likely coloured by the Airbus background of Iqbal and his management team – seems more realistic.
So far, EAG has sufficient funding to protect its intellectual property, says Iqbal, but is actively seeking additional finance from the capital markets, alongside a "modest" grant from the UK government to take it up to the flight demonstrator phase.
While he will not be drawn on how much government backing he is seeking, Iqbal points out that the flight demonstration on an existing Dash 7 or Dash 8 airframe and de-risking effort could be achieved for about $150 million – "a fraction" of the total $5 billion programme cost.
"That $150 million investment on a flight demonstrator programme will put the UK in the driving seat globally," he says.
Any state involvement would come with conditions, however, likely linked to domestic production. EAG has already assembled what it calls the "JetZero Consortium", comprising a list of UK suppliers keen to be part of the programme if it is launched. Today these include Dowty and Spirit AeroSystems, among others, plus support from academia. Additional parties have been approached for participation, for example to supply the HERA's electric motors.
"We are open to collaboration with other countries, but our motive and objective is building in Britain today," says Iqbal. "That is why we are going to the government with a consortium. The key to building this aircraft in Britain within a decade is that we need government support."
Possible production locations have been identified, including sites in the southwest of England, South Wales, and at Cranfield airport to the north of London.
"A fully British-built hybrid-electric aircraft will be a major achievement on the same lines as Concorde and this will be great for Britain, great for British aviation and great for our post-Brexit 'Global Britain' story on skills and expertise," says Iqbal.
Around 25,000 jobs would be supported by the programme, both directly and in the wider supply chain, EAG claims.
In addition, EAG is happy to work with existing airframers, says Iqbal, noting that licensing its technology would provide another possible revenue stream.
But he stresses that the ultimate aim is to build the aircraft itself: "As an organisation we have no enemies – we have to keep our doors open, but we don't want to just sit on the sidelines while they use our technology. This is the time for Britain to take the lead."