London Luton has been singled-out by the UK aviation regulator as providing poor service for reduced-mobility passengers, and – unlike other airports in the country – failing to improve over the course of this year.
The UK Civil Aviation Authority has revealed its verdict in an interim accessibility report, running from April to October, covering the 16 largest airports.
While it would normally issue such reports annually, the authority says it has opted for the interim publication following the difficulties experienced by airports as they struggled to meet demand during the post-pandemic recovery this year.
The CAA states that its analysis highlights airports which need to put further improvement in place to ensure disabled passengers receive "the standard of service to which they are entitled" ahead of 2023.
While acknowledging the "very challenging" situations experienced by the air transport sector, it adds: "At some airports there has been an unacceptable level of service provision and this needs to improve."
The report categorises London Luton as 'poor' for all three quarters it spans.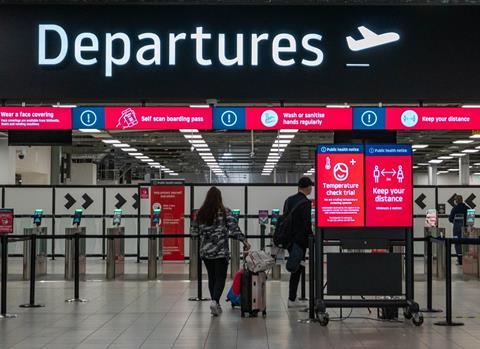 "It is disappointing that the airport has consistently missed our arrival standards and shown very little progress through the period of the whole report," it states.
"Too many passengers at the airport have been waiting for unacceptable amounts of time for assistance on arriving flights on too many occasions."
It acknowledges that Luton has been affected by "poor" airline punctuality, and ground-handling issues, but points out that these problems were "not unique" to the airport.
Luton airport's operator admits it has "fallen short on this occasion", insisting it is committed to providing "simple and friendly experience for all passengers", and pointing out that the airport has been "one of the top performing" in CAA customer satisfaction surveys.
"We have been working with our service provider, Wilson James, to improve assistance times for arriving passengers with reduced mobility, the one area in which we missed the CAA target," it adds.
"A number of improvements have already been made and we're now focused on working with our partners to achieve the highest standards."
Airport credited with performing strongly in the accessibility analysis include Aberdeen, Belfast International, East Midlands, Edinburgh, Glasgow and London City. Efforts to improve at Liverpool and Newcastle also "impressed" the regulator.
Four airports – Birmingham, London Gatwick, London Stansted and Manchester – also climbed out of 'poor' categorisation to achieve much higher rankings.
But London Heathrow, Bristol and Leeds Bradford, while improving to a degree, still gave cause for concern. Heathrow's performance, says the analysis, has been "disappointing", with "long delays" experienced by some passengers – and a "particularly poor" situation at Terminal 5, with "many" passengers missing connecting flights.