Ukrainian state aviation enterprise DAP Ukraine's presidential Airbus ACJ319 has undergone a refurbishment project at the facilities of Lithuanian-based J&C Aero and Estonia's Magnetic MRO.
The twinjet underwent cabin modification and renewal, including a "full" refurbishment of the aircraft's interiors, covering its seating, carpets, fabrics and veneer, as well as other cabin parts, says J&C Aero.
It states that it produced the new cabin fittings in-house while Magnetic MRO carried out installation and maintenance at Tallinn under J&C's direction.
The refit also involved supply and support to install a Ka-band satellite communication system, development of design changes for new in-flight entertainment equipment, and upgrade of the cabin-management system.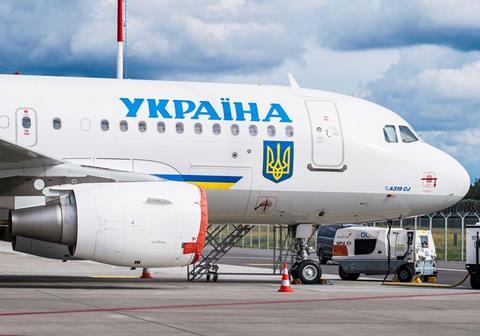 "Without a doubt, it was one of our most complex and ambitious projects," says J&C Aero chief Laurynas Skukauskas.
Given the ACJ319's presidential transport role – and particularly the current geopolitical situation in Ukraine – the work on the aircraft required "particular attention to details" and "full discretion", he adds.
The company has not disclosed when the work was carried out, stating simply that it was completed "recently".
While J&C Aero has not specifically identified the airframe, DAP Ukraine lists only a single A319 corporate jet in its small state fleet. Registered UR-ABA, and powered by CFM International CFM56 engines, it was originally delivered to Austrian business charter operator Jetalliance in 2007.