The US aviation industry is preparing for thousands of layoffs as government financial aid to protect workers' salaries expires in the coming hours.
"The clock is ticking and time is quickly running out for Congress to extend the effective and successful Payroll Support Program (PSP) that has kept critical front-line airline employees on the job and off unemployment," airlines trade group Airlines for America (A4A) says on 30 September. "PSP expires today. Tomorrow, tens of thousands of airline workers will be furloughed if the program is not extended."
With the expiration of the PSP, about 30,000 aviation employees across all work groups at most major US airlines will lose their jobs. That's not including thousands of workers who have taken voluntary leaves and early-exit packages in recent months.
In addition, US carriers will no longer be bound by rules requiring they maintain service to airports within their networks.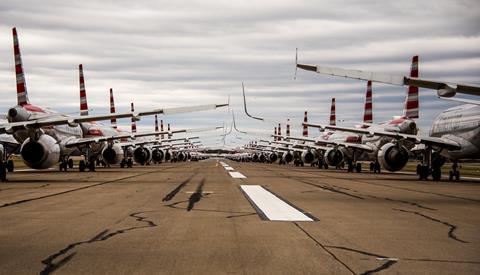 Those requirements were enshrined in the $2 trillion CARES Act, the relief package passed by Congress in March, part of which gave airlines a financial lifeline as they were desperately trying to preserve liquidity following the sharp drop off in demand as the coronavirus gripped the world.
The package made $58 billion in grants and loans available to US commercial airlines. That enabled them to keep the lights on during the biggest industry downturn in history, as lockdowns and quarantine requirements prevented free movement, and as customers stayed home.
Unions have joined airline managers and other industry players in calling for another six-month extension to PSP. With passengers still wary to flying, new travel restrictions in place and no coronavirus vaccine yet available, airlines need additional aid, they argue.
In recent weeks airline cheif executives have repeatedly met with lawmakers in Washington, DC to lobby for extra aid, while unions and thousands of individual workers participated in demonstrations and contacted legislators directly in support of an extension.
Within the past week, two separate bills were introduced into the Senate and House of Representatives that would extend the support and maintain the original stipulations of no involuntary furloughs until the end of March 2021. But industry observers are losing hope that something will break before midnight.
Across social media on 30 September, numerous aviation employees appealed to government officials directly.
Daniel Escola, who identifies himself on twitter as a pilot, addresses Senator Charles Schumer in a tweet, writing "@SenSchumer, as a #pilot and as your constituent, I am asking you to pass an extension of the #PayrollSupportProgram through 3/31/21. #Pilots and #frontline workers need your support to keep the #aviation industry and U.S. economy strong."
A twitter user named Brianna Leigh writes, "If the Payroll Support Program is not extended soon, I will lose my job. Without action, thousands of US aviation jobs will disappear on October 1."
Leading the list of furloughs is Fort Worth-based American Airlines, with 19,000 employees who could lose jobs, and Chicago-headquartered United Airlines, with 12,000 workers slated to be laid off.
Industry analysts and trade groups like A4A estimate it may take four years for the industry to return to pre-Covid levels.
GLOBAL PAIN
The pain of job losses is not only being felt in the US. Worldwide, the aviation industry is dealing with its biggest crisis in history
The Air Transport Action Group, an industry organisation based in Geneva, estimates in a study published on 30 September that worldwide, the coronavirus crisis will cost up to 46 million jobs supported by aviation.
"With the expectation that we will see less than half the passenger traffic this year than we carried in 2019, we know that a lot of jobs in air transport and the wider economy relying on aviation are at risk," ATAG's executive director Michael Gill says. "Some companies are already making difficult decisions, with many colleagues being impacted by the downturn."
The group says that air transport supports 87.7 million jobs in total worldwide, with 11 million people working for the industry itself. It provides for $3.5 trillion in economic activity.