US Senator Dianne Feinstein has introduced legislation that would require all domestic air travellers to prove they are fully vaccinated against the coronavirus, or show a negative test result in accordance with guidelines set forth by the Centers for Disease Control and Prevention (CDC).
The democratic Senator from California says on 29 September that the rules as laid out in the "US Air Travel and Public Safety Act" would mirror those for travellers returning to the USA from overseas.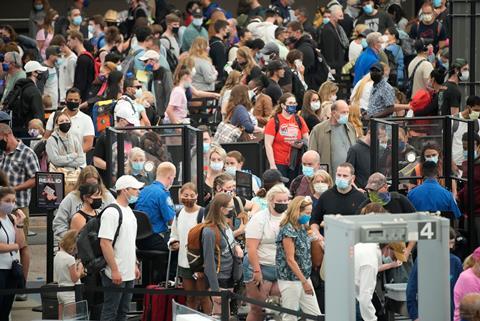 "We know that air travel during the 2020 holiday season contributed to last winter's devastating Covid-19 surge. We simply cannot allow that to happen again," Feinstein says. "Ensuring that air travelers protect themselves and their destination communities from this disease is critical to prevent the next surge, particularly if we confront new, more virulent variants of Covid-19."
"It only makes sense that we also ensure the millions of airline passengers that criss-cross our country aren't contributing to further transmission, especially as young children remain ineligible to be vaccinated," she adds.
International air travellers arriving in the USA must already provide a negative test result that is less than three days old ahead of boarding their inbound flights, even if the country they are arriving from has a lower coronavirus transmission rate.
On 1 November, the US government will ease its entry ban for fully vaccinated non-US citizens and permanent residents arriving from most of Europe, the UK, Brazil, China and several other countries - more than 19 months after the ban was first implemented. Those passengers will also be required to show proof of a negative test result in addition to their vaccination status.
But while Canada has announced a vaccination requirement for all air travellers from the end of October, a similar mandate for domestic travel in the USA is controversial. Opponents say that forcing people to get the jabs and publicly state their vaccination status violates their personal freedoms. In addition, airlines are sceptical that such a proposal is even viable. In the past weeks, several airline executives have called a potential vaccine mandate for travel within US borders as "cumbersome" and "impractical".
That said, the administration of President Joe Biden earlier this month signed an executive order which demands all federal workers and contractors be vaccinated, and companies with more than 100 employees must require their workers to have received immunisation against the coronavirus or submit to weekly testing.
United Airlines, which was the first US passenger carrier to require vaccination for its US-based employees, said earlier this week that the overwhelming majority of its workforce has indeed received the immunisations. On 30 September the Chicago-based airline adds that it has begun the process of firing 320 employees who have not proven their vaccination status, and who did not secure a medical or religious exemption.
"Our vaccine policy continues to prove requirements work - in less than 48 hours, the number of unvaccinated employees who began the process of being separated from the company has been cut almost in half, dropping from 593 to 320," United says. "That means 99.5% of United's US employees have now chosen to get vaccinated, excluding those who sought an exemption."
Frontier Airlines and Hawaiian Airlines have also introduced vaccine mandates for their US-based staffs. Unvaccinated employees at Delta Air Lines who are on the company's health plan must pay a $200 surcharge every month to compensate for their increased coronavirus risk.
American Airlines and Southwest Airlines are strongly encouraging their workforces to get vaccinated, but have so far not required it. Pilots at both airlines are seeking exemptions from the national mandate, as some fear "career-ending" side-effects from the vaccines.