After President Donald Trump announced a travel ban from most of Europe to the United States beginning at the end of this week, confusion ensued about what the measure will mean US carriers and their guests.
The full impact of the ban, aimed at preventing spread of coronavirus, remains far from clear. But the move seems certain to upend, if not outright freeze, air travel between the USA and contentinal Europe, a market with some 560 flights daily, according to Cirium schedules data.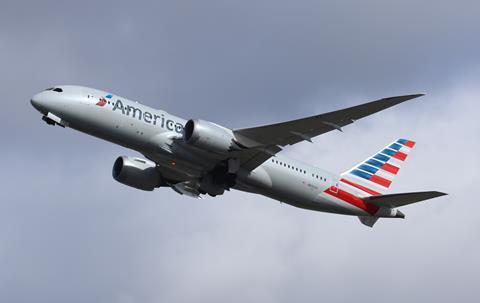 US President Donald Trump said on 11 March in an Oval Office address that his government will halt all passenger travel and cargo transport from Europe for 30 days, beginning on 13 March.
"After consulting with our top government health professionals, I have decided to take several strong but necessary precautions to protect the health and well being of all Americans," Trump said. "We will review the restrictions and warnings that are currently in place, for a possible early opening."
Still unclear is whether European leaders or airlines knew the ban was coming.
But following the president's announcement on live television, Homeland Security acting secretary Chad Wolf made notable clarifications.
The ban applies only to foreign nationals who have been in certain European countries encompassing the Schengen agreement for 14 days before their scheduled arrival in the USA, he says. The ban does not apply to US citizens, permanent residents or immediate relatives of citizens.
"Protecting the American people from threats to their safety is the most important job of the President of the United States," Wolf says in a statement. "While these new travel restrictions will be disruptive to some travelers, this decisive action is needed to protect the American public from further exposure to the potentially deadly coronavirus."
Importantly, the United Kingdom is exempt from the blanket travel ban. Still unknown is how officials intend to implement and enforce a ban, which specifically targets travelers from affected countries, and how officials might ensure those travelers do not reach the USA by transferring flights in a country that is not affected.
In a further clarification, the administration said cargo flights will not be affected.
During his address, Trump added the USA is closely monitoring the virus situation in South Korea, which has been hit particularly hard, and Japan.
How many flights are there between Europe and the USA?
The Europe-USA travel market is among the top air travel markets globally.
Nearly 40 airlines were scheduled to operate a combined roughly 560 passenger flights daily, carrying some 160,000 seats, in both directions between the USA and Europe (excluding the UK) in the 30 days starting 13 March, according to Cirium schedules data.
That equates to nearly 17,000 flights and 4.8 million seats in the 30-day period.
European countries with the greatest number of US flights include Germany, France and the Netherlands. Other countries with notable capacity to the USA include Spain, Switzerland, Italy, Portugal and Turkey.
American Airlines, Delta Air Lines and United Airlines will be the most-impacted US carriers. Combined, they operate more than 200 daily flights from the USA to Europe.
European carriers most affected stand to be Lufthansa, with about 60 daily US flights, and Air France, with an average of 37. Aer Lingus, KLM, Swiss and dozens of others operate Europe-USA routes.
Delta says: "The safety and health of our customers and employees is always our highest priority. Delta has and will continue to quickly make adjustments to service, as needed, in response to government travel directives."
United says simply, "We will comply with the administration's announcement."
Niether American nor airline trade groups Airlines for America and IATA responded to requests for comment.
The airline industry has braced to take a large financial hit since numerous companies halted corporate travel in recent days. Meetings and conventions have been cancelled and leisure travellers are reconsidering plans.
In the past week, all major US airlines began suspending service to some European cities, including Milan, Rome, Barcelona, Madrid and Paris. United and American said on Tuesday they expect significant declines in revenue in the coming months as demand has fallen sharply since the virus spread globally. Many airlines have also relaxed change fees, allowing passengers additional flexibility in the coming weeks.
Story updated on 12 March to clarify that the ban targets travelers from countries and that implementation and enforcement details remain unknown. Story corrected on 14 March to note the flight and seat statistics cited do not reflect continental Europe only, but rather Europe excluding flights to and from the UK.