Dutch start-up Venturi Aviation remains confident that it can bring to market by 2030 a 44-seat, all-electric regional aircraft which will be more competitive than those offered by the sector's incumbents, despite the range limitations imposed by battery technology.
Venturi is developing the Echelon 01, which at service entry will have a range of about 300nm (550km), says founder Jan Willem Heinen, but with a maximum take-off weight of around 45t – more than double the 18.5t of the conventionally fuelled ATR 42-600.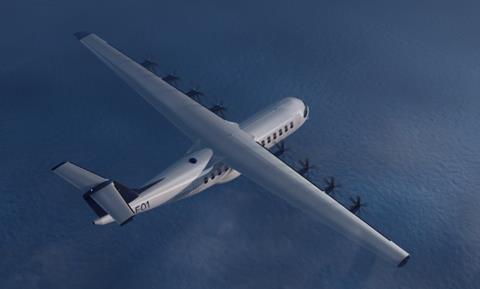 Despite this, he stresses "it has a business case" based on Venturi's analysis. "We have made our simulations based on passenger seat kilometres, which is the basic essence of an operator, and we see that we are on a par with an ATR 42.
"But that's just right now, because whenever CO2 taxation comes into play for airlines we are by far cheaper and that's a very interesting concept."
In addition, Venturi's model sees operators receiving new batteries roughly every 12 months, based on typical usage, delivering a range uplift with every successive iteration of cells.
"We firmly believe that our aircraft in 2030 will fly 500 kilometres, and in 2040 it will fly about 1,000 kilometres, which is significant," says Heinen.
"Therefore we feel it's really worthwhile designing an aircraft that has performance figures that are not up to spec yet, because they will be."
Those batteries will also have a second life incorporated into a ground storage system, contributing to Venturi's fast-charge system that will allow replenishment of the Echelon 01's cells in as little as 35min.
Heinen says the specifications were set following analysis by Venturi's initial 10-strong team into the feasibility and potential performance of over 1,000 aircraft designs, coupled with airlines' preferences. "Of course, their preference went to the maximisation of passengers."
He sees the slot limitations of major airports as militating against the widespread uptake of lower-capacity electric aircraft. "This is the main reason why large operators tend not to be very enthusiastic about 19 passengers: it just doesn't fit their [feeder] model."
Even with the 300nm range at service entry, Heinen contends that the Echelon 01 can still be used by major carriers to feed their hub operations.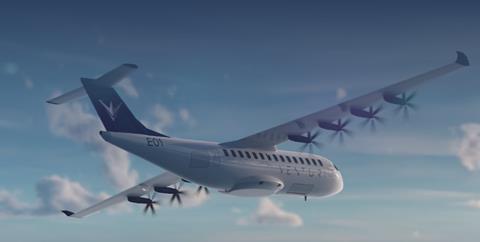 Money from private investors – a "couple of million [euros]" – has financed Venturi's initial activities; a second round of funding, for €15-30 million ($15-31 million), will close in the third quarter of 2023, says Heinen, helping to fuel its expansion.
Based on its service-entry target of 2030, first flight of the Echelon 01 should be in the 2026-2027 timeframe. In the interim, Heinen does not anticipate flying any scaled prototypes, with its near-term focus instead on building "multiple" prototype battery packs.
"If we can prove we have an aviation safe and lightweight battery pack that's also replaceable then we have proved our core technology," he says.
Conversations with potential suppliers to the programme continue as Venturi refines the design of the Echelon 01. Images on the company's website show an aircraft with a distributed propulsion architecture incorporating eight separate electric motors.
However, Heinen says that configuration may yet change as it was driven by the lack of availability of motors much larger than around 1MW; the aircraft's total power requirement when departing from a 1,500m (4,920ft) runway is 9,500kW, he says.
Heinen, whose background is in sustainability and ground mobility, believes the aerospace sector will be a huge beneficiary from the leaps forward in battery and motor technology driven by the push to electrify the automotive sector.
He says the motivation for setting up Venturi alongside co-founder Joost Dieben was frustration with the slow pace of change within aviation. "We are looking at an aviation industry that thinks it can emit more CO2 than the Paris [climate] agreements allow for the forseeable future.
"And then somewhere along the line there will be some magical invention called sustainable aviation fuel which will resolve all our issues. Then there will be some hydrogen in 2035 – all these very long timelines while the climate isn't waiting."