Electric air taxi developer Eve Air Mobility has secured letters of intent from two aviation companies to purchase a total of up to 120 of its in-development electric vertical take-off and landing (eVTOL) aircraft.
The Embraer-backed company said at the Paris air show on 20 June that Brazil's Voar Aviation signed a letter of intent (LOI) to purchase 70 air taxis, while Norwegian air mobility incubator Wideroe Zero signalled its intent to purchase up to 50 vehicles.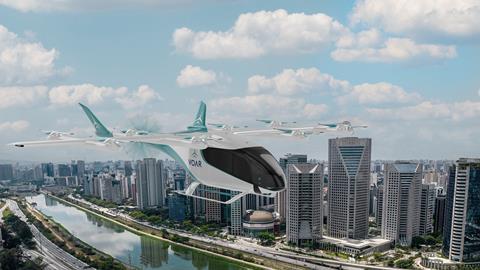 The deals bring Eve's backlog of eVTOL orders to 2,770 aircraft – all under letters of intent, rather than firm orders.
Eve says that general aviation company Voar intends to use Eve aircraft to expand operations in several regions throughout Brazil, including large metros such as Sao Paulo, Belo Horizonte and Brasilia.
"This partnership reinforces that Voar is ready to open the doors to future air mobility and contribute the necessary infrastructure for the operation of this new way of transportation," says Alessandra Abrao, Voar's chief executive.
Eve's agreement with Wideroe builds on an MOU signed by the two companies in 2021 to build eVTOL operations in Scandinavia.
"This additional LOI reinforces our commitment to introducing sustainable, safe and affordable urban air travel to the region," says Andre Stein, co-CEO of Eve. "Together, we will drive this transformation and pave the way for a more accessible transportation ecosystem for Scandinavian communities."
Eve would also provide Wideroe with training, MRO services, spare parts, battery lifecycle management and data integration solutions under the agreement.
The companies also plan to develop safety protocols for flying eVTOLs in icing conditions – a major barrier for electric air taxi operations in Scandinavian countries and other cold-weather regions around the world.
"Wideroe's extensive experience operating in Norway, where icing conditions are prevalent, will provide valuable insights and expertise," Eve says.
Wideroe is pursuing a long-term plan of electrifying Norway's domestic short-haul flights, including a "substantial portion" of its regional fleet by 2030.
Earlier at the Paris air show, Embraer and Japanese electric motor specialist Nidec said they were forming a new joint venture called Nidec Aerospace, which will provide electric propulsion systems for Eve's project.