Urban air mobility company Volocopter has teamed up China's Geely Technology Group to work on introducing its electric air taxi services into the country.
The German company discloses that it has filed for a business licence in China, and will enter a joint venture with Geely, a mobility conglomerate which is also one of its strategic investors.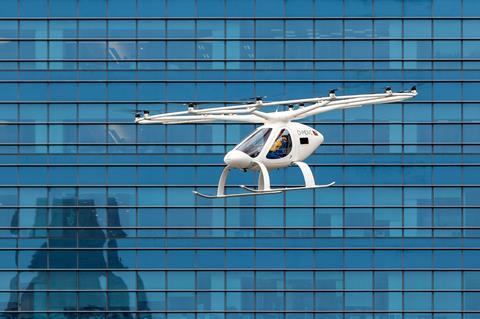 The disclosure comes as both companies jointly presented the Volocopter 2X electric vertical take-off and landing (eVTOL) aircraft at this year's Shanghai International Automobile Industry Exhibition, a move they say will raise the "public awareness" of the air taxi concept.
"Together with Geely Technology Group, Volocopter is beginning the process of introducing these mobility services in China and creating a scalable model for production and operations," says the company, which did not disclose a timeline of possible service entry.
Volocopter and Geely are also in the process of identifying where electric air taxi services could be introduced in China. While it will use the 2X model at the onset, Volocopter says its in-development VoloCity eVTOL aircraft will be used in future services.
Volocopter is no stranger to the Asia-Pacific market, having conducted its first manned air taxi demonstration flight in Singapore in October 2019. It has also joined forces with Japan Airlines last September, with the hopes of commercialising air taxi operations in the next three years.
It most recently raised some €200 million ($239 million) in Series D funding, bringing its total investment to €322 million.