In what it claims is an industry first, French aircraft developer VoltAero has flight-tested the hybrid-electric powertrain that will eventually power its in-development Cassio 330 aircraft using "100% sustainable fuel".
VoltAero said on 21 September that the flight was recently conducted at VoltAero's development facility in Royan, France, using the powertrain's electric mode and its combustion engine, which burned fuel produced by French firm TotalEnergies.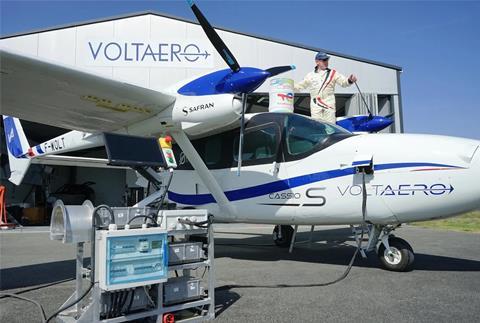 TotalEnergies produced the bio-ethanol used in the test flight using wine-making waste from French vineyards, resulting in an 80% reduction of CO2 emissions while operating the Cassio powertrain in its hybrid mode, according to VoltAero.
Jean Botti, VoltAero's chief executive and chief technology officer, says that the demonstration flight "underscores the opportunity for production Cassio aircraft to represent a major step closer to aviation's decarbonisation goals by replacing standard Avgas 100 high-octane fuel for aviation piston engines".
The flight was performed with VoltAero's Cassio S testbed, which is being used to validate its electric-hybrid powertrain and the use of sustainable fuel for aviation applications and "complements the ongoing introduction of sustainable aviation fuel", the start-up says.
The testbed aircraft is intended to reduce the risk of airworthiness certification for eventual production versions of Cassio aircraft, VoltAero adds.
In June, VoltAero unveiled the initial flight-test prototype of the Cassio 330 at the Paris air show in Le Bourget. Intended to be the first in a family of aircraft with between five and 12 seats, it will be suited for regional commercial flying, air taxi operations, cargo delivery, medevac flights and private ownership, the company says.
VoltAero touts its conceptual propulsion system as "unique". An aft-mounted 330kW propulsion unit will be utilised for all-electric take-off, landing and primary flight purposes, while the hybrid feature with a fuel-burning engine "comes into play as a range extender, recharging the batteries while in flight".
"Additionally, this hybrid element serves as a back-up in the event of a problem with the electric propulsion, ensuring true fail-safe functionality," VoltAero says.
The Cassio series of aircraft will be assembled in VoltAero's facility at Rochefort airport in France.