It was in a dimly-lit hangar at Kuala Lumpur international airport that Teleport chief executive Pete Chareonwongsak threw down the gauntlet.
Chareonwongsak, addressing a crowd of more than 100 attendees, says the logistics and cargo unit of Malaysia's Capital A might be a relatively new entrant to the sector – having started only five years ago – but that it is ready to "dominate the skies".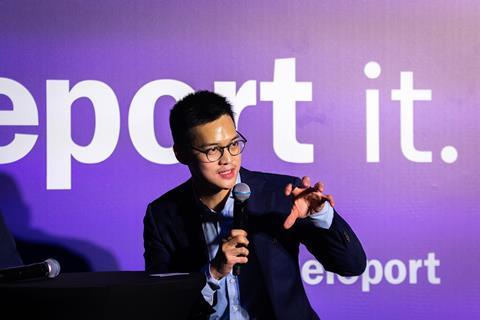 To cheers, he adds emphatically: "You know what? Champions are not here to take part. We are here to take over."
Chareonwongsak was speaking at a Teleport event on the evening of 12 July, where he unveiled the company's first dedicated freighter, an Airbus A321 passenger-to-freighter (A321P2F) jet painted in its trademark black livery, featuring a large, white 'Teleport it' slogan.
At the event, Chareonwongsak took pains to highlight the company's "scrappy" beginnings without any dedicated freighter aircfraft and with a small team.
Now, Chareonwongsak says Teleport is the region's top logistics operator. "Today, I'm proud to announce that this little company from Malaysia moves more things by air than any other player in Southeast Asia," he says, to more cheers from the captive audience of Teleport and Capital A staff.
With the new A321P2F, Chareonwongsak says the company has entered a new phase of its growth. The aircraft (9M-TLA) is the first of three freighters that will enter the fleet over the next nine months.
Chareonwongsak adds that the company "has a plan" to take up to 10 A321P2Fs over the next year and a half, underscoring Teleport's bullish forecast in the near-term.
BELLYHOLD 'UNDERPINS' STRATEGY
While the company looks to grow its fleet of dedicated freighters, Chareonwongsak says its main operating model will still "predominantly be bellyhold" cargo.
"[We] have the belly space that underpins the core of the network… and then when you take a freighter… you can graduate some of that volume, you can connect some of that volume, you can move some of that volume that you've built up into the freighter," he tells FlightGlobal.
The company primarily uses sister unit AirAsia's network for bellyhold capacity, though Chareonwongsak says the airline is in talks with third-party airlines for bellyhold access.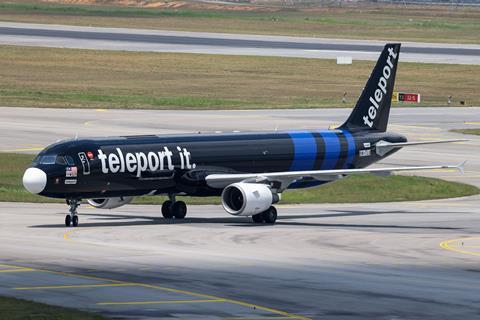 Dispelling the perception that Teleport was "the cargo unit of AirAsia", Chareonwongsak says: "Our model is very clear: that we will work with everybody [not just AirAsia]."
"But we could not have started this without the AirAsia network, which is the largest already in Southeast Asia. [Other airlines]…will not give you any network, you know, in totality," he adds.
Its relationship with the AirAsia group of airlines also extends to the operational side: AirAsia crew will fly the freighters and its flights operate under AirAsia Malaysia's AK code. This, in turn, can help drive operational savings.
"To induct this new A321P2F, we did not need extra staff; it's inducting it into the AOCs (air operator's certificates) that we have today: the fleet, the spare parts, the pilots, the ground equipment, the fuel supplier, the slots," he says.
Now that the company has a dedicated freighter, Chareonwongsak says network planning "has to be optimised".
"Every leg this aircraft flies, there's going to be no empty sectors… it cannot fly half-full. Our traditional competitors… can accept that because they take high-value things, but [for us] this is about volume, so that is the number one thing we have to optimise," he says.
'LOWEST COST WINS'
Teleport's latest development is an unusual contrast to the global freight market, which is seeing a softening of demand as passenger travel returns.
Chareonwongsak is unfazed, even if he is cautious. "Lowest cost wins. In a falling market of yields, how much value do we give away and how much volume do we put on the plane consistently?" he says.
E-commerce, says Chareonwongsak, is a key opportunity for the company.
"[With] small packages, we [can] disrupt the express business," he says, pointing at larger express carriers like DHL and FedEx.
"That's the holy grail because [the express] business is…not volume-driven at all. It's been value-driven, so therefore, [the other players] can operate large freighters flying hub-and-spoke. But really in Southeast Asia…it is impossible [to operate] at that price point and grow the market," he adds.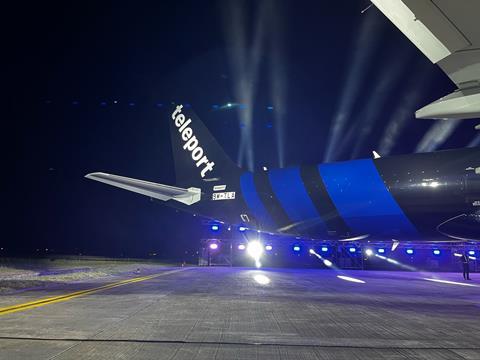 He says the close relationship with AirAsia carriers gives the company some operational buffers.
"I think with a bellyhold network, you've always got a network no matter where you are," Chareonwongsak says, pointing out that if the dedicated freighter is unable to fly, "all the [cargo] can be moved into the bellyhold network".
More crucially, the AirAsia-Teleport relationship "is fundamental" to helping drive costs down. Chareonwongsak believes Teleport stands a better chance than legacy cargo operators, noting that "high-cost players will suffer" amid market uncertainty, and doubles down on his mantra that the lowest cost wins.
It is clear Chareonwongsak is optimistic about Teleport's chances: "We've gone from zero market share to number one, when we [AirAsia carriers] have not even fully recovered our fleet. So it just shows you that it can be done."
"I think we're going to win," he adds.