Sydney's second airport – Western Sydney international (Nancy Bird-Walton) airport – has received the WSI designator from IATA, as government officials confirm te airport remains on track for a 2026 opening.
In a statement issued 2 March, Australian transport minister Catherine King says work on the new airport is about 40% complete, with airside, landside and terminal construction "expected to reach its peak" later in the year.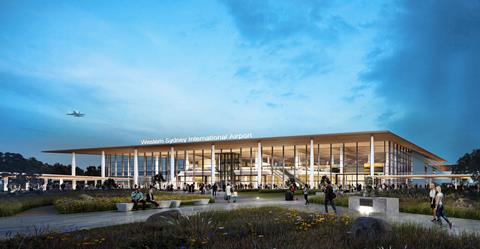 When operational, the single-runway airport will be able to handle up to 10 million passengers a year. It will feature an integrated domestic and international terminal, as well as a "cargo precinct", among other features.
Western Sydney airport will complement existing operations at the slot-constrained Sydney Kingford Smith international airport.
Says King: "The awarding of the IATA three-letter code is an exciting step forward in the development of WSI."
"It will unlock endless opportunities across the region, including greater freight capacity, a boost for tourism operators and a shorter commute for locals wanting to travel on a domestic or international flight," she adds.
The Australian government is building the new airport, after private operator Sydney Airport walked away from the project in 2017, stating that the development terms did not "meet our investment criteria".
Canberra is also drafting an environmental impact statement on the airport development, following design assessments.