With new programmes, new agreements, and progress towards a fundamentally new era for aviation, chief executive Guillaume Faury is hardly likely to let Airbus slip quietly back onto the Le Bourget stage – four years after the last Paris show – even as a creaking supply-chain is frustrating the aerospace giant's efforts to regain its momentum.
Airbus is not planning an 'A220-500' launch at its home event but, when it finally takes the decision to proceed with the much-anticipated 150-seat twinjet, its development could end the A220's engine exclusivity arrangement.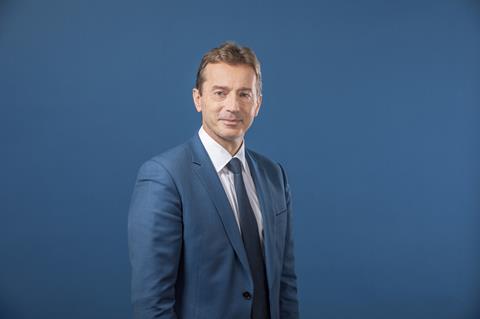 Creation of the -500 would cement the A220's position as an aircraft family and – while the A220-100 and -300 are solely powered by Pratt & Whitney PW1500Gs – moving to a dual-source engine would align the A220 with Airbus's long-established A320 line.
Faury tells FlightGlobal that such a decision "could make sense" when the -500 is introduced.
"We'll have three products, a complete family, and in that sense we think it could call for dual-sourcing of engines at the right point in time, if engine manufacturers are ready to go there," he says.
But the -500 is not an imminent project. "There's still a lot on our plates on the A220 programme as it is today," says Faury, pointing out that Airbus's immediate focus is the Pratt & Whitney in-service engine problems which are affecting A220 operators. The airframer is also still trying to reduce costs, in order to break even on the programme by mid-decade, at which point it wants to be producing 14 A220s monthly.
As the A321neo – with its long-range A321LR and A321XLR variants – continues to emerge and evolve as a separate and distinct aircraft group, says Faury, it will create "some space for the -500" at the lower end of the A320neo family.
But the A220-500 remains low on the priority ladder. "I like to say we're wrong to be right too early," says Faury.
Offering a second A220 engine, as Airbus does for the A320neo, is a strategic consideration to broaden appeal. While it contrasts with Boeing's approach on the 737 family, Faury argues that single-aisle volumes justify the decision. "We're very happy to have double-source on single-aisle, that works very well," he says.
Faury states, however, that the airframer is turning to dual-sourcing more for contingency purposes in other parts of its business, reflecting a cautious approach after the post-pandemic recovery exposed the vulnerability of the aerospace industry to supply-chain disruption.
"The overall geopolitical supply risk situation is calling for less exposure to single source of failure – single issues leading to disruption," Faury says.
"We're working today to de-risk our supply chain, and therefore double- or multiple-sourcing more than what we do today."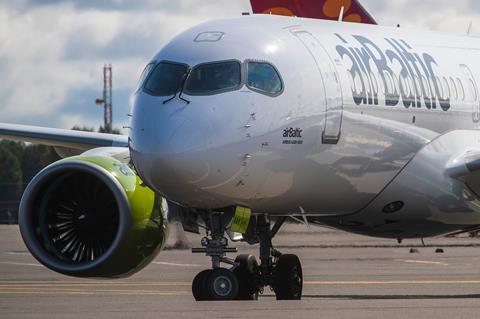 Pervasive supply-chain problems have resulted in Airbus's having to delay deliveries as well as rein-in its ambitious ramp-up schedule for A320neo production. With a second Tianjin single-aisle facility opening in 2025, the airframer is taking the number of A320neo final assembly lines to 10 – all of which will be capable of building the increasingly-popular A321neo, whose backlog exceeds 3,600.
This should enable it to take monthly output to 75 aircraft. But with supply of components and systems hamstrung at multiple aerospace tiers, this rate of production has been pushed back to 2026.
If Airbus is frustrated at the inability to accelerate manufacture, its customers are similarly aggrieved and sympathy over the airframer's position is not a given. US lessor Air Lease described the both Airbus and Boeing in May of suffering from "self-inflicted" problems, accusing them of having increased production rates too quickly against the background of difficulties with a corresponding supply-chain ramp-up.
Faury accepts that delivery delays have occurred since contract amendments were signed during the pandemic. But he asserts that Airbus has acted transparently and rationally and defends the airframer's decisions.
"I'd like to remind airlines that they were the ones to ask for postponement and delays, and pushing delivery dates to the right," he says.
He insists Airbus "communicated very clearly" on the ramp-up trajectory. "We wanted to give the clear indication, clear information, the clear path to the suppliers on the fact that we were going to ramp up and that they had to prepare for it.
"This has been done after consultation of the supply chain. I think we gave all we could reasonably give to the supply chain… for them to have the means and possibilities to do the ramp-up."
He acknowledges that the single-aisle ramp-up has been "much slower than we anticipated", owing to supply-chain hitches.
"Airbus today is oversized in its capability to produce and assemble [aircraft] compared to what the supply chain is providing to Airbus," says Faury, stressing that suppliers – particularly the smaller enterprises – have been placed in a "very difficult" environment, with shortages of raw material, logistics capacity, labour and equipment.
"Should we have anticipated better the difficulties to recover from [the pandemic]? Maybe, yes. It's always easier to be smarter afterwards. It's easy to criticise; there are always easy solutions to the problems of others."
He argues that the "vast majority" of Airbus's 3,000 suppliers "managed to open at the right pace", but adds that absence even of small parts can hold up production.
"We've been slowed down by a small number of suppliers. The few suppliers that didn't manage to execute the ramp-up as planned have slowed down the whole industry," he says.
"As soon as you have one not delivering correctly it slows down everybody. That's what the engine-makers suffered from. It's a complex system. It's what we suffer from. Things are progressively getting better but it's by far too early to declare victory."
Faury believes Airbus was "right" to start considering the ramp-up as early as April 2021. "With hindsight we should have been more prudent in the speed of ramp-up," he admits, but adds that this might have led to worse problems. "I think we took decisions that were not far from being the right ones when we took [them]. And we were forced to adapt the speed of ramp-up, and now we're all late."
But he says the world has become "more complex", particularly with the Ukrainian conflict, and that this could not have easily been predicted.
The situation appears to be "slightly getting better", Faury cautiously suggests. "That's not visible in the acceleration of deliveries because we're still limited by a few critical suppliers that are on their recovery plans, and not doing better than [previous commitments].
"We're still limited by the bottlenecks. The bottlenecks are not accelerating faster than what was expected. But the rest is doing OK."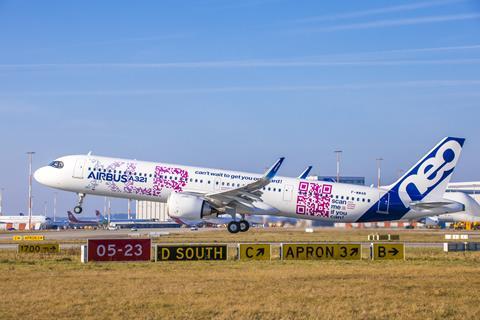 Airbus is confident that the A321XLR, undergoing certification, will meet its current entry-into-service target of the second quarter 2024. Faury believes there is no need for design changes, and that the certification basis – while taking longer than intended – "has been frozen".
"We're making good progress on certification files, ground tests, documents. [Flight-tests] are moving forward at a good pace, and with good results," he says, and the service-entry outlook has been "stable" for "many months in a row".
Supply-chain issues will not alter the XLR's service-entry date. But Faury says the production and delivery schedule will – like other single-aisle models – be affected. "The XLR moved to the right with the other A321s as we had to adapt the schedule in recent months," he states. "But it's not an XLR topic, it's a volume topic."
Airbus has, however, shifted the debut of its other new programme, the A350 freighter, back a few months to 2026 – the result of assessments as development stages are reached.
But Faury is satisfied with the early take-up of the freighter. He says the backlog of 39 aircraft "fuels the first years of deliveries", and adds: "That's enough for us to ramp-up the programme as an industrial plan."
Faury describes the market response to the A350F as "very good" for a new design, reiterating the twinjet's capabilities and compliance with ICAO's 2028 emissions requirements, and shrugging off Boeing's rival 777-8F as well as the proliferation of 777 cargo-conversion lines.
"We would have been very surprised if Boeing would have completely abandoned the segment that's been very successful for them over time. They're incumbent in the market and trying to leverage the fact," he says.
"Each and every campaign today, with the [777-8F] offer from Boeing, becomes very competitive. That's what the airlines were expecting. From an airline perspective, having both [airframers] competing fiercely on the freighter is very good news."
While the 777-8F has snared fleet-renewal agreements with several high-profile operators – among them Lufthansa Cargo, Qatar Airways, Cargolux and ANA Cargo – Faury is satisfied with the caliber of early A350F customers, which notably include Air France-KLM, Singapore Airlines, Etihad Airways and Air Lease. Crucially, some will be using the A350F to replace Boeing 747 freighter capacity, as Airbus had envisioned.
"We've launched the A350 freighter, I think, with the right timing. Now we have big replacements coming, of big fleets, especially the specialised cargo carriers like FedEx, DHL and others," Faury says. "Boeing will not let it go easily."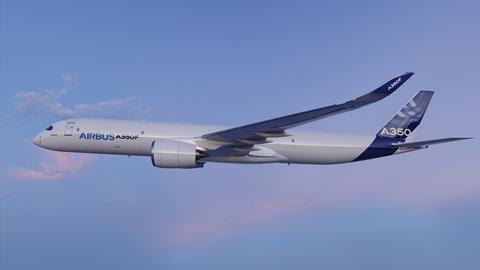 Although Airbus is increasing dual-sourcing across its supply chain, Faury feels no need to implement that policy on widebody platforms where a single firm has engine exclusivity as Rolls-Royce does on the A350 and A330neo. "We don't feel the need to change the situation," he says.
But with the UK propulsion specialist recently commencing test runs of its UltraFan demonstrator – sometimes characterised as a solution in search of a problem – there is already speculation where that powerplant might fit in Airbus's product range.
Faury says the UltraFan architecture, as a potential evolution of the current powerplants, could "make sense" for Rolls-Royce-equipped Airbus jets "if proven competitive by Rolls-Royce".
"We are with Rolls-Royce engines on the A350 and the A330neo. So [UltraFan] is what Rolls-Royce is working on to power our planes in the future and, if the performance is validated, that could make sense to us," says Faury.
Airbus is clear that it views hydrogen as the fuel source most likely to deliver decarbonisation in the long term, with its ZEROe initiative built around it. But Faury warned at the manufacturer's Summit 2022 even in December that three conditions would need to be satisfied if Airbus was to launch a hydrogen-powered aircraft in 2027 or 2028. These were technology readiness, a regulatory environment that was capable of approving hydrogen aircraft and fueling infrastructure, and a conviction that by 2035 there will be green hydrogen "in the right quantity, in the right place, at the right price".
On the technology side, Faury feels confident, but concedes the areas outside its control "might be more difficult than the airplane itself".
However, he is pleased with the progress to date, seeing a willingness from EASA to engage and prepare the regulatory framework for hydrogen aircraft; increasing government support for hydrogen-related projects is also sending a "very strong signal to many stakeholders that they have to be ready, that they have to invest".
"Things are moving quickly. The fact that we have a hydrogen [aircraft] programme, very visible, experts that speak to other stakeholders, is also a way for those stakeholders to understand… that they have to be prepared, and also to learn and exchange and discuss," he says.
"But I have not suggested we will delay [a launch]. I have suggested there are other conditions that need to be in place in order to launch the programme - and those conditions are also challenging."
Although progress is "accelerating" in certain areas, there is continued uncertainty about the surety of green hydrogen supply given the increased competition for the fuel from other energy-intensive industries such as steel making as they also look to decarbonise.
"So, it is premature to say everything will be ready by '27, '28 to launch but there is clearly an acceleration and that is positive," says Faury.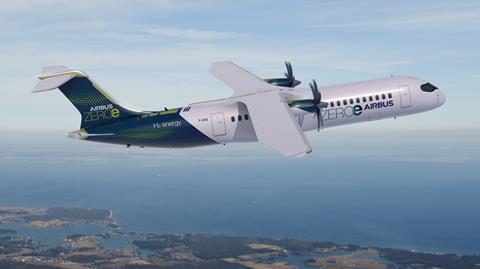 Elsewhere in Airbus, the programme consuming the most engineering resources is the Future Combat Air System (FCAS) being developed for France, Germany and Spain. Here an unusual period of calm has descended since an agreement was reached in December last year - between the nations and their industrial champions Airbus Defence & Space and Dassault – relating to the workshare and leadership roles for Phase 1B of the programme which will see a demonstrator of the New Generation Fighter (NGF) built and flown.
Prior to that point, relations between Airbus D&S and Dassault had mostly been characterized by public bickering – "arm-twisting" Faury calls it – as each side jockeyed for position. But now, he says, "we are in execution – it's no longer about transactional negotiation on who does what: we have agreed on the workshare and the lead-share and now we are executing", which is proceeding "very smoothly and efficiently".
And, Faury points out, although Dassault is the largest, the project has "many partners", running through the technology pillars, such as sensors, engines and weapons, required to develop the FCAS.
Still, every now and again, comments from Dassault's combative chief executive Eric Trappier emerge to spoil the peace. For example, in March he told FlightGlobal that although the leadership of Phase 1B was agreed, it did not guarantee the project would be a success.
"Eric Trappier is Eric Trappier," shrugs Faury, noting that the opinion of one partner "does not [alter] the will of Germany, France and Spain to build a programme that is at the scale and size and complexity required to be successful."
He also sees "an appetite from other countries" to join the FCAS effort, highlighting the fact that Lockheed Martin's F-35 programme initially accommodated eight partner nations in addition to the USA.
That might not be achieved without a fight, however: last month, Trappier told French lawmakers of his opposition to incorporate into the FCAS project countries, like Belgium, that had selected the F-35 over European solutions.
But Faury says whether to admit new partners will be a decision for the three nations currently funding the FCAS development.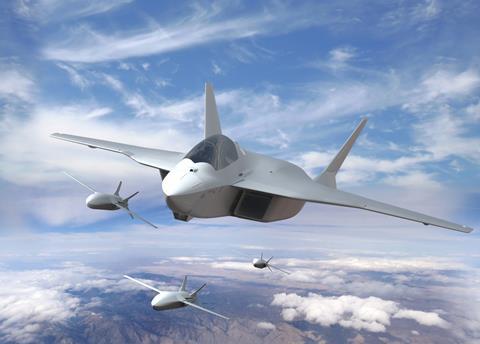 Meanwhile, at Airbus Helicopters – a division formerly led by Faury – things are calmer. No new programmes are in development, albeit there is plenty of ongoing research and innovation work as the business looks to the future. On the civil side, the Racer high-speed rotorcraft demonstrator is due to make its maiden sortie this year, while the FlightLab and DisruptiveLab flying testbeds are already airborne and helping to mature technologies for future applications. And in the military side of the business, initial work has begun on a European Defence Fund-backed project looking at the technologies required for a next-generation military helicopter.
Against most measures, market share or customer satisfaction, for example, the division is "doing really well", says Faury, who praises its financial performance as "predictable and reliable".
Turnover last year was around €7 billion ($7.5 billion) – a healthy 12% of the group's €58.7 billion total. While this figure will never match that of commercial aerospace – "the trees cannot grow to the sky", says Faury – he praises Airbus Helicopters' strategy: "In terms of driving to sustainability and the technology roadmap, it is moving in that direction probably much better than other helicopter OEMs."
Its future role will be to "successfully manage the transition to decarbonisation for helicopters" and to be a "good player" in the market for urban air mobility vehicles once that segment takes off. Plus, Faury envisions Airbus Helicopters as having a wider role "contributing in terms of technologies to the group when it comes to hybridisation, electric propulsion and electric technology and also being the partner that Europe needs for vertical flight for defence."
That last point is key: "Defence is, in my view, something that we need to be very mindful of in Europe," he says.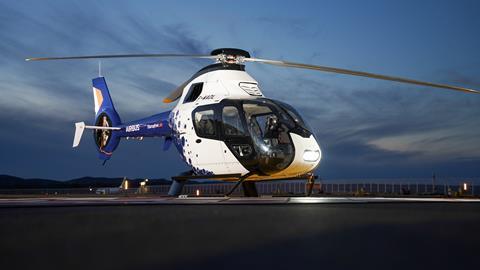 Dominic Perry is deputy editor of Flight International but also contributes extensively to flightglobal.com. Although specialising in the coverage of the helicopter industry, he has written on most topics in aerospace – be they commercial, defence or business aviation. In addition, there has been an increasing focus on the decarbonisation of the industry and zero-emission flight initiatives.
View full Profile