Advanced powertrain specialist ZeroAvia believes it can become Airbus's future hydrogen propulsion supplier of choice following a recent collaboration pact between the two companies.
ZeroAvia disclosed on 18 September that Airbus, alongside Barclays Sustainable Impact Capital and Saudi Arabian investment fund Neom, had led its latest funding round.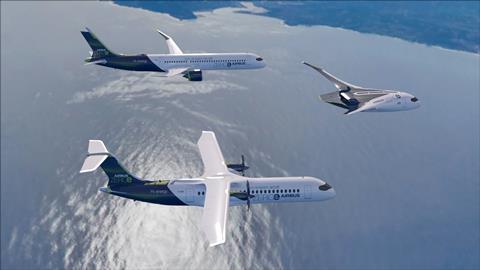 In addition, Airbus and ZeroAvia agreed to "collaborate on certification approaches for hydrogen power systems" and work together on key technical areas including liquid hydrogen fuel storage and ground- and flight-testing of hydrogen fuel cell propulsion systems.
But while some have seen the agreement as Airbus simply offering a leg-up to the relatively inexperienced ZeroAvia, its chief executive Val Miftakhov thinks the co-operation between the two parties could become much deeper.
"We are hoping to be their engine partner across the board eventually," he says.
A relationship between the pair has existed for several years, he points out, "and finally they decided that they want to join forces."
Airbus revealed least December that it was developing its own hydrogen fuel cell powertrain and intended to fly the 1MW-class system aboard a modified A380 testbed.
Meanwhile, test flights of ZeroAvia's 600kW ZA600 propulsion system are already under way, and it has a stated aim of introducing the more powerful 2MW ZA2000 powertrain in the 2027-2028 timeframe.
But Miftakhov is not convinced by suggestions that there is a duplication of effort. Airbus, he says, "is an aircraft OEM first and foremost", and while it may do significant work to validate propulsion performance and understand integration requirements, that does not change its core role as a "vehicle manufacturer".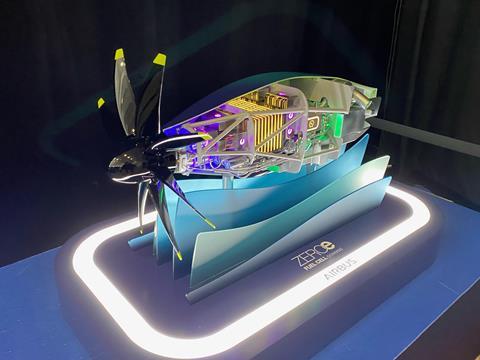 Airbus is investigating both fuel cells and hydrogen combustion as future power sources, but Miftakhov says ZeroAvia has no interest in the latter, save for potential "augmentation opportunities" – boosting the performance of a hydrogen-burning engine with a fuel cell-powered electric motor.
In fact, Miftakhov is sceptical that the industry needs to investigate hydrogen combustion at all, seeing it simply as a "transition technology" that will be ultimately surpassed by fuel cell performance.
While it may take "15 or 20 years" to scale fuel cell propulsion to suit the largest aircraft, the power-generation efficiency offered by the technology – particularly of high-temperature fuel cells – will be greater than can be realised from advanced combustion engines.
"If you believe there will be a better technology then any combustion is a transition technology. The question is do you want to invest additional money into a transition technology?"
He says the "theoretical" maximum efficiency of fuel cells is around 90%, whereas a current combustion engine is around the 45-50% mark.
Greater efficiency means less fuel needs to be carried, reducing the volume needed for fuel tanks, plus "it's cheaper", he adds.
ZeroAvia is targeting 2025 for service entry of its ZA600 system, which will be followed in 2027 by the ZA2000 – a high-temperature fuel cell system which can scale from 2-5MW, or even up to 6MW.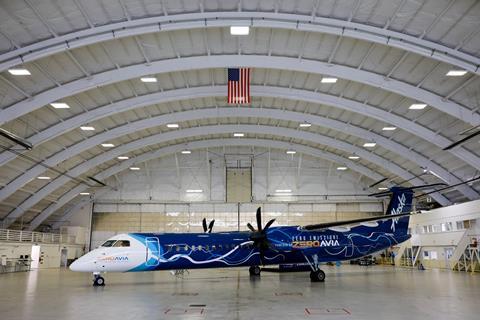 Initially, that will be aimed at large turboprop passenger types such as the De Havilland Canada Dash 8-400. ZeroAvia has an engineering partnership in place with the airframer and is working on the conversion of an initial test aircraft in partnership with Alaska Airlines.
ZeroAvia is also targeting ATR 42/72 twin-turboprops for conversion but has yet to sign any form of partnering arrangement with the manufacturer.
However, Miftakhov is hopeful the pact with Airbus – one half of the ATR joint venture alongside Leonardo – could offer a way in. "We hope it helps. But it is not 100% Airbus-owned."
The ZA2000 powertrain will also be suitable for the 100-seat, 1,000nm (1,850km)-range twin-propeller aircraft proposed by Airbus under its ZEROe programme, with a service entry goal of around 2035. However, a larger aircraft of around 200 seats – akin to an A320 – will require a further step.
"It will be something like a ZA10000, but we will have to figure out some better names," he adds.

Dominic Perry is deputy editor of Flight International but also contributes extensively to flightglobal.com. Although specialising in the coverage of the helicopter industry, he has written on most topics in aerospace – be they commercial, defence or business aviation. In addition, there has been an increasing focus on the decarbonisation of the industry and zero-emission flight initiatives.
View full Profile