Powertrain developer ZeroAvia is targeting its hydrogen-electric technology at regional jets, having identified "clear applications" for Bombardier CRJ-series aircraft.
ZeroAvia said on 19 June during the Paris air show that the CRJ700 could feasibly be retrofitted with its ZA 2000RJ powertrain, "confirming maximum take-off weight, centre of gravity and structural allowances".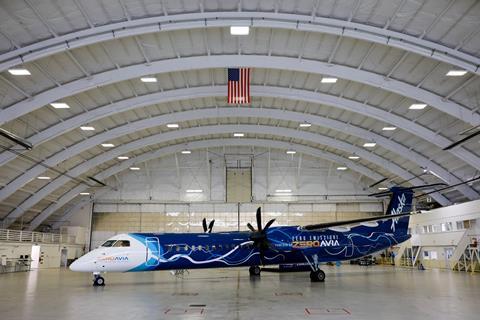 A technical study conducted alongside MHIRJ – a subsidiary of Mitsubishi Heavy Industries and the OEM of the CRJ series of aircraft – also finds that CRJ550s and CRJ900s are likely candidates for hydrogen-electric retrofitting.
The analysis suggests a hydrogen-electric CRJ could support up to 60 passengers with a range of 560nm (1,040km), which would cover 80% of regional jet flights, the company says.
Valery Miftakhov, chief executive of ZeroAvia, tells FlightGlobal that his company's technology has the potential to revitalise regional air travel, saying the lower cost of hydrogen fuel and reduced maintenance costs could provide operators with a "significant cost advantage".
"The system would drastically reduce operating costs by virtue of hydrogen fuel use and reduced maintenance costs, creating opportunities for new routes, as well as more flights on existing routes to match or increase passenger volumes," ZeroAvia says.
Retrofitting the existing fleet of turboprops and regional jets with quieter hydrogen powerplants could also make regional air travel more appealing to the public, Miftakhov says, as "noise is one of the main objections" among residents who live near regional airports.
ZeroAvia said in May that it had accepted delivery of an Alaska Airlines De Havilland Canada Dash 8-400 turboprop, which would be retrofitted with a hydrogen-electric propulsion system and become the "world's largest zero-emissions aircraft". The company plans on flight-testing the aircraft next year.