Advanced powertrain developer ZeroAvia has flown its modified Dornier 228 (G-HFZA) solely using thrust from its ZA600 propulsion system, as the twin-turboprop returned to the skies after a fight-test pause that lasted over a month.
Revealed in a Facebook post on 23 March, ZeroAvia said the twin-engined aircraft performed a level flight "using only the ZA600 prototype engine".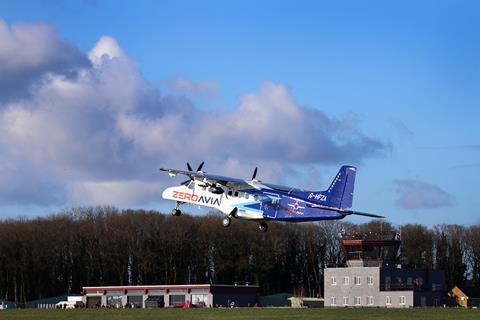 However, it has not disclosed whether the system's fuel cells were augmented by power from batteries, which ZeroAvia has installed as part of its conversion process. During the maiden sortie, they supplied around 50% of the power for the electric motor, it said.
For its latest mission, ZeroAvia says the Do 228 "flew with zero thrust from the conventional turbine engine as the ZA600 entirely powered the testbed aircraft as it circled Cotswold airport.
"The flightcrew were able to perform tests to confirm the aircraft was able to fly on hydrogen-electric power with the turbine throttled back to simulate a zero thrust."
The mission consisted of three loops of the airfield – ZeroAvia's UK base – at a maximum speed of 130kt (240km/h).
It was only the Do 228's third flight since undergoing a modification that saw its port-side Honeywell TPE331 thermal engine replaced with an electric motor. The fuel cells, hydrogen storage and batteries are located inside the fuselage.
For the certificated version, ZeroAvia hopes to move the power-generation elements to the exterior and eliminate the battery.
ZeroAvia says adverse winter weather conditions are partly responsible for the limited number of sorties to date. The Do 228 made its maiden flight on 19 January, followed by a second on 1 February; both lasted around 10min, according to flight-tracking data.
As the weather improves "you'll see a greater frequency of flying", says ZeroAvia. It is still targeting certification for the ZA600 powertrain in 2025.

Dominic Perry is deputy editor of Flight International but also contributes extensively to flightglobal.com. Although specialising in the coverage of the helicopter industry, he has written on most topics in aerospace – be they commercial, defence or business aviation. In addition, there has been an increasing focus on the decarbonisation of the industry and zero-emission flight initiatives.
View full Profile