A trio of Federal Aviation Administration (FAA) reports, written several years before two fatal 737 Max crashes, highlighted concerns about agency's self-certification programme, describing the Boeing-FAA relationship as "contentious" and possibly requiring a "reset".
Marked "draft reports," the 2015 documents broadly review the agency's Organization Designation Authorization (ODA) programme and recommend improvements that would enable the agency to reduce some project involvement.
The reports were compiled well before the Max crashes in 2018 and 2019, which killed 346 people and spurred criticism of the ODA initiative. Under that programme the FAA authorises selected manufacturers to perform certain certification activities.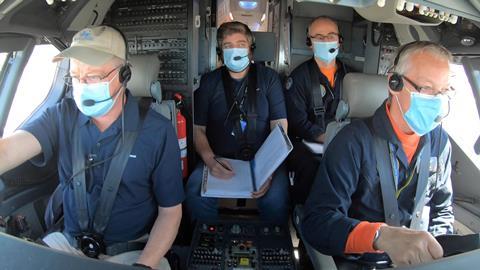 FlightGlobal recently received the reports from the FAA, more than one year after requesting them.
The documents broadly summarise information and opinions received from the FAA and aerospace manufacturers, reviewing how implementation of the ODA in 2009 affected those companies and the product certification process.
The reports are dated August, October and November 2015, and some pages are marked "McKinsey", a consulting firm.
The FAA did not respond to questions about the documents.
"Lack of consistent performance management systems, change-resistant frontline mindsets, and skills challenges contribute to variable performance," say the reports. "Disagreement on safety relevance contributes to uneven application of standards."
"ODA implementation has not met expectations and… has not consistently delivered industry-wide benefits", the documents say. "OEMs feel a larger administrative burden without corresponding benefits."
BOEING-FAA FRICTION
The reports review Boeing's relationship with the FAA's Boeing Aviation Safety Oversight Office (BASOO), which oversees Boeing certifications and is within the FAA's Aircraft Certification Service (AIR).
"The Boeing-BASOO relationship is the most important and contentious," the reports say. "Disconnects between Boeing and BASOO may require a relationship reset."
The reports describe Boeing as perhaps "the most important AIR stakeholder by virtue of [its] size and growing product complexity".
"Projected 15% annual growth in Boeing's certificate submissions will overwhelm BASOO at [the] current level of involvement," the documents say.
Still, BASOO "is a relatively high performer" compared with other FAA certification offices, despite handling far more projects.
Asked to comment, Boeing says, "This report, released in 2015, illustrates how the FAA and the aerospace industry, including Boeing, have an ongoing practice of identifying and resolving issues – all with an eye toward continuous improvement as a global aerospace industry.
"After Boeing and many other companies implemented their ODAs, the FAA and the industry focused on continuous learning and improvement of the ODA programme," the airframer adds. "We continue to make great progress in improving how we work with the FAA."
Boeing says it and the aerospace industry are "relentlessly focused on safety".
The 2015 reports quote a Boeing representative as saying, "Our relationship has deteriorated to the point where every non-compliance finding is viewed as a systemic problem… as if we don't have a commitment to safety."
"The FAA is more reactive than" the European Union Aviation Safety Agency (EASA), a Boeing representative added. "EASA supports Airbus in a way that isn't mirrored by the FAA with us."
Boeing and BASOO use "different metrics and methods to determine compliance", and "data is not consistent between Boeing FAA databases", the reports say.
The studies were compiled following input from and workshops with 10 "industry players": Bell, Boeing, CubCrafters Aircraft, GE Aviation, Gulfstream, Heico, Honeywell, Icon Aircraft, Rockwell Collins (now Collins Aerospace) and Textron Aviation.
Boeing executives contacted to contribute to the review included: John Hamilton, who has since left the company but was vice-president of engineering; Michael Delaney, then vice-president of commercial engineering; and Lindsay Anderson, vice-president of commercial aircraft quality, the reports say.
Top executives at the other companies were also contacted.
FAA officials who participated in the reviews included former deputy associate administrator for aviation safety John Hickey, and Jeff Duven, system oversight division director of aircraft certification.
The FAA Modernization and Reform Act of 2012, which funded the agency, required the FAA to assess certification processes and evaluate potential ODA programme improvements. It is unclear whether the 2015 studies stemmed from that requirement.
"What we need is more flexibility and autonomy," one unnamed industry representative said. "ODA has actually had the opposite effect. Relationships with the FAA have been replaced by a formal, rigid process."
"I never expected the level of administrative burden ODA entails. I have three people working full-time for me just to handle the admin," a manufacturer added.
Outside of the reports, many companies have publicly praised self-certification programmes like ODA, saying they help them bring innovative and safer technologies to market faster.
"ODA is the latest and most-comprehensive in a series of steps towards increased delegation and leverage of industry resources in certification," say the reports.
The ODA process is now under fire following the two 737 Max crashes. Investigators attributed the accidents to factors including Boeing's design, the FAA's certification process, and pilot and maintenance issues. US lawmakers recently introduced legislation aimed at strengthening the FAA's certification oversight.
According to the 2015 reports, manufacturers spent $1 million-$11 million annually on their ODA work, equating to less than 0.5% of all OEM profits.
'DELEGATION LEVELS'
The documents specify how manufacturers' certification workload changed after the ODA programme came into being.
Boeing's "delegation level" roughly doubled from 39% in 2006 to 82% under ODA, the 2015 documents say.
Aerospace supplier Heico's delegation level jumped from 10% to 91%, and GE's delegation rate increased from 90% to 98%.
Other companies' delegation levels remained flat or declined. Collins remained unchanged over the period with a 99% delegation level, while Cessna's level declined from 68% to 55%, the reports show.
As the documents are five years old, those figures are likely to have changed since.
Manufacturers' certification paperwork ballooned following their transitions to the ODA structure.
Their certification plans jumped from an average of 236 pages to 5,248 pages after adopting ODA programmes, while certification descriptions increased from an average of 69 pages to 830 pages, the reports say.
Former National Transportation Safety Board member and independent aviation safety consultant John Goglia says US aerospace suppliers need self-certification because the FAA lacks sufficient resources and skilled staff.
"When you ask a bureaucrat to make a decision about something he knows little about, he is going to take time to go and dig and talk to everyone else… to build up his comfort level," Goglia says. "While that is going on, you are giving the competition time to develop their product."
An industry-wide shortage of skilled technical workers has contributed to those staffing issues, Goglia adds.
According to the 2015 documents, Boeing reported that FAA approvals "are too long and unpredictable", and that "50-60% of deliverables are completed after agreed-upon targets".
OEMs have also struggled to find employees with qualifications required for ODA work, the documents say.
COMPETITION PRESSURES
The reports describe the interplay between certification and broader competitive issues.
Manufacturers tend to set "ambitious" project schedules, and sometimes make delivery commitments "in advance and independent of certification planning", the documents say. "Innovation puts continued pressure to keep up with frontier standards."
"Releasing a product a year later will mean delaying if not entirely forfeiting that revenue, as new products from other suppliers will create obsolescence for your product," they add.
The documents touch on other issues, noting the tendency by some manufacturers, when disagreeing with FAA specialists, to "go above to management, causing friction".
The FAA's Boeing office "describes repeated and recurring instances where Boeing leadership engages with FAA leadership before [the] escalation process has run its due course," the documents say.
Manufacturers sometimes lack "necessary systems and processes to enable effective FAA… systemic oversight".
Other countries' civil aviation regulators face similar issues, but "feel FAA digs into too many non-safety-critical details", the reports say.
The reports recommend the FAA "partner with applicants" to prioritise policies for emerging technologies. The agency should reduce paperwork and harmonise its regulations with those of other countries, the reports advise.
Additionally, the documents call on the FAA to accelerate delegation of some types of certification, and to improve "systems-level oversight… by building and leveraging" ODAs' capabilities and responsibilities.
The reports estimate that improvements could reduce the FAA's "real-time project involvement by 40%".
100 YEARS OF DELEGATED CERTIFICATION
Forms of aerospace self-certification extend to the early decades of flight.
From the 1920s to 1940s, US regulators designated individuals, including those at manufacturers, "to make compliance" findings related to certification, the reports note. Those individuals included "designated engineering representatives", "designated manufacturing inspection representatives" and "designated airworthiness representatives".
Between the 1950s and 1990s, the FAA had a "limited organizational designation" process under which it authorised groups within companies to oversee certification aspects.
The agency then broadened its approach with the ODA structure, which "opens [the] possibility for almost all manufacturers to receive organizational designation".
"The certification model has continuously evolved to handle more volume with proportionally fewer resources," say the reports. "ODA allows manufacturers relatively broad authorisation… but requires a dedicated internal organisation with stringent audit and control standards."