Boeing's 787 delivery delays could potentially allow some customers to cancel orders without penalties, taking advantage of the same contract clauses that allowed some 737 Max buyers to back out.
That is according to executives at aircraft lessor Air Lease and an analyst with BofA Securities.
Aircraft sales contracts typically allow customers to cancel orders without penalty if deliveries are delayed more than one year. Due to production issues, Boeing halted 787 deliveries between October 2020 and March, then again in May.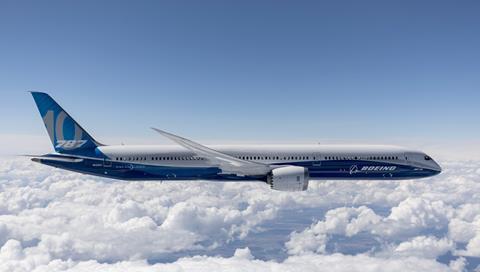 Deliveries have not yet resumed.
Boeing has said it has about 100 undelivered 787s in its inventory.
"As more and more aircraft hit that 12-month point, where the customer has the right to cancel, it's going to certainly increase pressure on Boeing to come up with solutions, not to have white tails," Air Lease executive chair Steven Udvar-Hazy says during the lessor's second-quarter earnings call on 5 August.
"There could be situations where we may have to face the reality of giving notice to Boeing to cancel an aircraft," he adds.
White tails are jets that have been manufactured but lack a buyer.
Air Lease holds orders for 30 787s, according to securities documents.
Ron Epstein, the BofA analyst, said during the earnings call that "maybe a third" of Boeing's undelivered 787s could be subject to "material adverse change" clauses in purchase contracts – the clauses that allow penalty free cancellations.
Boeing did not immediately respond to a request for comment.
"It's certainly possible some of these 12-month cancellation points could be triggered. I have no idea how many of the 100-plus airplanes could be subject to that," says Air Lease chief executive John Plueger. "We have a few that could be subject to that in forward-looking months."
Boeing's latest 787 production pause stems from an issue with the flatness of fuselage skins at the area where fuselage sections join. In July, Boeing disclosed another 787 manufacturing quality issue involving gaps in forward pressure bulkheads. The company says the issues do not affect flight safety. Boeing is working to have its fixes approved by the Federal Aviation Administration.
"It's very difficult to predict when the eight-sevens will begin deliveries," Udvar-Hazy says.
Plueger adds, "It's entirely possible… we could have a similar situation to what we had in the Max".
Airlines cancelled hundreds of 737 Max orders amid and after the 18-month grounding, though how many of those cancellations were penalty free under delayed delivery provisions is unclear.
Air Lease executives also note that some customers later reinstated cancelled Max orders.
If customers want to cancel 787 orders, "we'll just have to see what the response is from Boeing, and whether we can satisfy our airline customers accordingly", Udvar-Hazy says.
"We have a great relationship with Boeing on this kind of thing, they have been very accommodating," Plueger adds.