Mark Cousin, who has been chief executive of Airbus innovation arm Acubed, is leaving that company to be vice-president of engineering at hydrogen-fuel development start-up Universal Hydrogen, effective in June.
Zsolt Lattmann, who has been an Acubed project executive, will succeed Cousin as Acubed CEO, the Silicon Valley-based Airbus affiliate says.
"After nearly 35 years of service to Airbus, I've made the decision to depart from my beloved Airbus family and my current role as CEO at Acubed, to start a new professional adventure to boost zero-emission aviation," Cousin says in a posting on Acubed's website.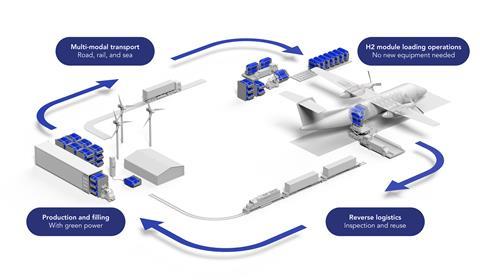 Cousin will help develop and deliver Universal Hydrogen's "modular hydrogen capsule and fuel-cell power-train products", Universal Hydrogen says.
The company confirms Cousin will start in June, though the date remains undetermined.
During his Airbus career, Cousin was technical director of the programme that developed the A330-based Beluga XL freighter. He also led the A380's service entry with Singapore Airlines and worked on the A340-600 and A350 programmes.
Universal Hydrogen has several links to Airbus. Its CEO Paul Eremenko helped launch Acubed and later became Airbus chief technology officer.
In February, Universal Hydrogen said it had formed an advisory panel that included former Airbus chief executive Tom Enders and former chief commercial officer John Leahy.
Also, in April, Universal Hydrogen revealed it received a $20.5 million investment from entities including Airbus Ventures, the airframer's venture capital arm.
New Acubed CEO Lattmann has, for five years, been project executive for the unit's "advanced digital design and manufacturing initiative".
Additionally, Acubed communications director Paige Stanton Wilson will take the position of chief operations officer.
Universal Hydrogen aims to develop a hydrogen-fuel production, storage and distribution network for aviation. Its concept involves hydrogen-fuel storage "modules" that can be loaded onto aircraft.
Story updated on 5 May to note Cousin will join Universal Hydrogen in June.