US aerospace manufacturers and airports asked lawmakers for more financial aid during a 6 May hearing, while the nation's top airline lobbyist warned of his sector's precarious position.
That lobbyist, Airlines for America (A4A) chief executive Nick Calio, also faced a sharp rebuke over his members' airline ticket refund practices.
"We also respectfully request temporary and targeting assistance for the ailing aviation manufacturing sector," Aerospace Industries Association (AIA) chief executive Eric Fanning said during the hearing, titled "The State of the Aviation Industry: Examining the Impact of the COVID-19 Pandemic."
Fanning disclosed few details, but says AIA's plan would create a "private-public partnership to protect jobs and keep at-risk employees on the payroll through this pandemic".
Participating companies would "provide significant investment to sustain payroll, with the government supplementing a portion of the cost", he says in prepared testimony.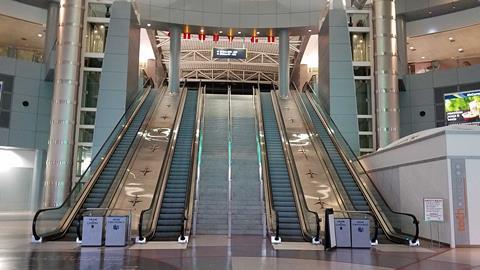 That request follows the 27 March passing of the federal government's coronavirus relief package. The law made hundreds of billions of dollars available to various industries but, unlike with the airline sector, did not specifically set aside funds for aerospace manufacturers.
The package provided $454 billion worth of loans and loan guarantees to companies within distressed sectors of the US economy, billions for small businesses and $17 billion for companies critical to national security.
But Fanning says that, due to technicalities and a top-secret clearance requirement, some AIA members were unable to access government aid.
The government aid package also provided US airports with $10 billion.
"Airports will need additional federal assistance at least as large as the initial amount provided," American Association of Airport Executives chief Todd Hauptli told lawmakers during the hearing. He also requested billions of dollars for other sectors of the aviation industry, such as for general and business aviation and airport concessionaires.
A4A's Calio told lawmakers that provisions in the relief bill are forcing airlines to operate routes that have virtually zero demand. The aid package provided funds to airlines on condition they maintain some level of service to cities already served.
Calio asked lawmakers "to seek solutions to address the challenges posed by this unsustainable requirement".
During the hearing, Senator Richard Blumenthal chastised Calio for alleged failures by airlines to provide prompt refunds to passengers ticketed on cancelled flights.
"You are continuing to mislead and deceive those taxpayers" who have funded the US government's recent pandemic relief package, Blumenthal says. "You are screwing the very taxpayers whose money is going in [airline] pockets."
Calio says A4A's members comply with regulations requiring they refund tickets in cases when airlines cancel flights, if requested by customers.
He adds that expanding rules to require refunds in cases when passengers themselves cancel tickets would "drive the companies toward bankruptcy".
The issue of ticket refunds has simmered in recent months as airlines cancelled flights and grounded aircraft in response to the travel downturn.
On 3 April, the US Department of Transportation issued a notice reminding airlines that regulations require they refund tickets for flights cancelled by an airline, if passengers request refunds. The agency issued the notice in response to complaints from customers, it said.