Embraer has hired automaker Toyota to help improve the efficiency of its aircraft manufacturing facility in Sao Jose dos Campos in Brazil.
The move comes as Embraer seeks to reduce production lead times and accelerate the pace at which E-Jets move through its assembly site.
The company on 30 June says it signed an agreement with Toyota do Brazil "in order to embrace Toyota production-system principals and concepts in its industrial operations".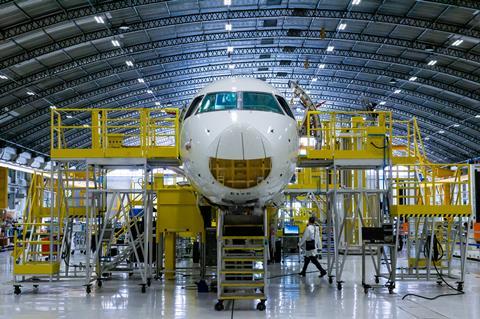 "The initiative aims to eliminate waste, obtain operational efficiency and increase value generation for stakeholders," Embraer adds.
During the project's initial phase, Toyota "specialists… will immerse themselves in Embraer's daily work to evaluate and suggest improvements for the company's main manufacturing area at the Ozires Silva Unit" in Sao Jose dos Campos.
Embraer chief executive Francisco Gomes Neto calls the arrangement "an excellent opportunity to exchange knowledge and accelerate the usage of the lean philosophy in the production systems".
Embraer says it has since 2007 followed the "Lean philosophy" – a widely embraced concept of tightly managing production that seeks eliminate waste, improve quality and otherwise streamline output. One core concept is "Just in Time" manufacturing, which means having components flow into a manufacturer's facilities as the manufacturing needs those components, thereby eliminating large part surpluses.
Embraer in recent weeks said it wants to squeeze more efficiency from its E-Jet manufacturing plant.
The company hopes to cut production lead times – the duration of a process, start to finish – 40% by 2023, an Embraer executive said in early June.
Also, the airframer aims to accelerate production so that each airframe remains at each production station only 2.5 days before moving on. Currently, airframes move from station to station ever three days, down from four days last year, Embraer says.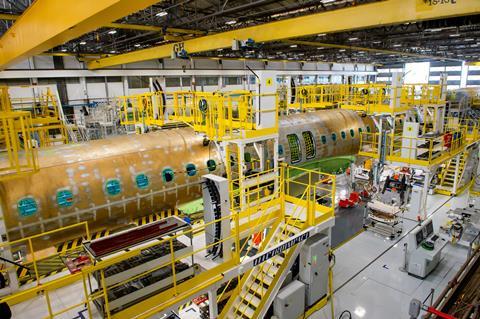 The company has been working to ramp up deliveries following several years of slower production. Embraer and its aerospace competitors have also been hampered by recent supply chain slowdowns.
Embraer aims to deliver 60-70 commercial aircraft and 100-110 executive jets in 2022. That would be up from Embraer's 48 E-Jet deliveries and 93 executive aircraft deliveries in 2021.