Spanish airline group Air Nostrum has doubled its commitment for Hybrid Air Vehicles' (HAV) Airlander 10 to 20 aircraft, delivering a boost to the UK developer ahead of its planned production start and certification campaign.
Air Nostrum had originally reserved 10 examples of the hybrid airship in a 100-passenger configuration, in June 2022.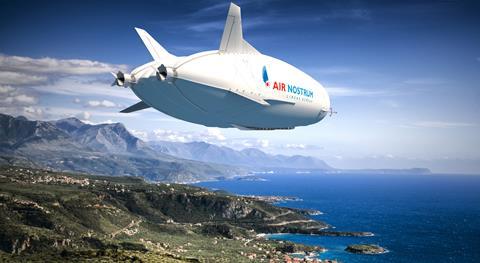 The operator says the extended agreement will allow it to launch an Airlander network from Malta and within Spain. Air Nostrum owns Mel Air in the Mediterranean island group, as well as Ireland's Hibernian Airlines. Potential routes could include those to the Maltese island of Gozo, and Sicily, Tunisia and Libya, says the company.
HAV says Air Nostrum is also joining the "development partner programme" for Airlander 50, an envisioned variant with 50t of payload capacity, compared to Airlander 10's 10t capacity.
In March, HAV announced plans to build Airlander 10 in Doncaster, UK with help from a £7 million ($8.5 million) loan from the local authority. HAV plans to deliver its first aircraft in 2026 and to be producing 10 aircraft per year by the end of the decade.
With ability to land on and take off vertically from grass fields and water, HAV markets Airlander 10 as suitable for a variety of roles, including cargo, surveillance, regional transport and VIP travel. Its first three production slots are reserved for unnamed luxury tourism operators.
Miguel Angel Falcon, chairman of Mel Air and vice-president of Air Nostrum, says Airlander 10's "very low fuel consumption [and] high operational versatility… in an environment of great passenger comfort" makes it "an excellent aircraft for regional flights".
Tom Grundy, HAV chief executive, says the "growing partnership" with Air Nostrum "continues to demonstrate leadership towards the future of flight". He adds: "Airlander is designed to deliver a better future for commercially appealing and truly sustainable aviation services."