Colorado-based XTI Aircraft recently entered a definitive merger agreement with Inpixon to create a publicly traded company focused on bringing its in-development "vertical-lift crossover" aircraft to market.
XTI is developing a fixed-wing business aircraft called the TriFan 600, which the company says will combine "the vertical take-off and landing capabilities of a helicopter with the high-speed, long-range cruise of a business aircraft".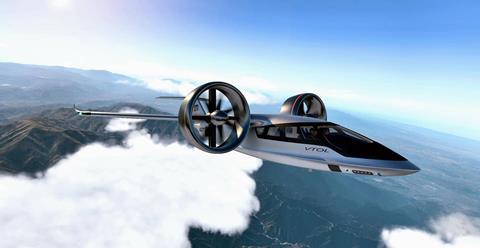 The companies revealed on 24 July that the proposed tie-up is expected to be completed by the fourth quarter of 2023, creating a company called XTI Aerospace that will trade on the Nasdaq stock exchange under the symbol "XTIA".
If the deal closes, XTI Aircraft will operate as a wholly owned subsidiary of XTI Aerospace.
The transaction value is listed at $70.3 million in a filing with the US Securities and Exchange Commission. The deal has been approved by the boards of both companies and by XTI's controlling shareholders but is awaiting approval by Inpixon's shareholders.
Under the agreement, XTI shareholders will own 60% of outstanding shares of the post-combination company and Inpixon shareholders will retain 40%.
Nevada-based Inpixon offers a "real-time location system" to industrial customers to "create smarter, safer and more secure" indoor environments, according to the company's website.
"If completed, the merger will result in a combined publicly traded company that will focus on advancing the XTI TriFan 600 to market, as well as continuing to offer Inpixon's real-time location systems technology to manufacturing and warehousing facilities for streamlined operations, greater efficiency and improved safety," the companies say.
The air taxi developer is the latest advanced air mobility (AAM) company to signal its intention to become a publicly traded company. Canada's Horizon Aircraft also recently embarked on the path to being listed on the New York Stock Exchange, while Southern California's Surf Air Mobility – which plans to electrify turboprop aircraft for short-haul flying – went public in late July.
The TriFan 600 will have a payload capacity of 2406lb (1090kg), speed of 345mph (300kt) and a range of about 700mi (608nm) when taking off and landing vertically, with added range when the aircraft uses runways. It is designed to seat six passengers and one pilot.
Unlike electrical vertical take-off and landing (eVTOL) aircraft, the air taxi will be propelled by petrol-burning turbine engines – at least initially.
"XTI's future plans include incorporating hybrid-electric or all-electric propulsion as these technologies mature and become commercially viable," the company says.
The TriFan 600 "will reduce travel time and operating expenses, while utilising existing infrastructure including over 5,000 existing helipads in the US alone, as well as driveways, back yards, job sites, private landing pads, remote locations — wherever it's safe and legal," XTI says.
The company does not specify a timeline for certification and service-entry for its aircraft, but notes that it will target the markets for business aircraft as well as the emerging advanced air mobility sector.
The eventual production aircraft will be marketed to "a broad range of end users including business aircraft and helicopter operators, fractional operators, air medical operators, high-net-worth individuals and government and military" customers.
XTI says it has 700 "conditional pre-orders" for its in-development aircraft, representing "potential gross revenues of approximately $7.1 billion".