Air taxi developers are urging the Federal Aviation Administration to revamp proposed rules for air taxi operations and pilot certification, but a major US pilot union is standing the way.
The companies are telling the FAA that its recently proposed rules would inflate operating costs, limit the range of flights and force them to develop separate models specifically for training pilots – potential major hurdles for the nascent but ambitious air taxi sector.
That is according to comments filed recently in response to rules the FAA proposed in June.
"It is unrealistic to assume that manufacturers can develop dual-control versions of their aircraft designs," one developer, Archer Aviation, told the FAA in a 11 August letter. "This cannot be accomplished in a timely or cost-effective manner."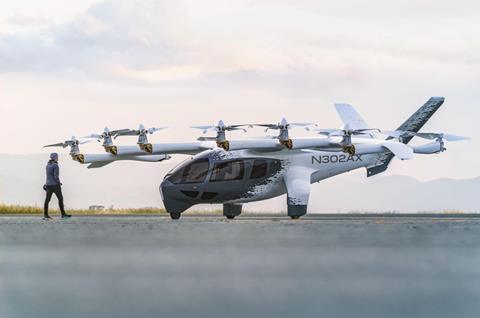 The proposal was a step by the FAA toward completing rules needed to oversee electric vertical take-off and landing (eVTOL) aircraft and other similar designs. The FAA considers air taxis to be in the "powered-lift" aircraft category. (Other categories include "airplane" and "rotorcraft".) Some developers are aiming to have their designs certificated as soon as next year.
Because air taxis have unique characteristics, the FAA proposed that their pilots hold "powered-lift" licenses and, attached to those, type ratings specific to air taxi models.
The air taxi sector is now railing against that plan. That is because it would necessitate that pilots complete training in those specific types, and FAA rules require training aircraft have two sets of flight controls – while many in-development air taxis have only one.
"Many powered-lift aircraft have flight controls and human-machine interfaces that make the need for dual controls unnecessary," air taxi developer Supernal tells the FAA in a 14 August response.
Industry group the Vertical Flight Society says the FAA's plan would require pilots complete "25h of training on a type-certificated, dual-control, powered-lift aircraft – none of which currently exists. Nor is there any dual-control eVTOL aircraft known to be in… certification."
Air taxi developers view single controls as critical to their designs, reducing weight and opening space for another passenger. Developers insist they should not be required to develop dual-control models and say pilots can receive adequate training in simulators.
"The Joby aircraft has been designed with a single set of controls," that developer tells the agency. "The FAA's proposal would mandate Joby significantly modify its proposed type design or develop an additional type design for the purpose of training."
Flight training providers agree.
"This will require [manufacturers] to get two aircraft type certificated, creating a cost burden of developing a dual-control aircraft, which will cause delays to [type certification]," FlightSafety International tells the FAA.
"The FAA should provide a path for solo endorsement without requiring in-aircraft training," pilot-training firm CAE adds in its comments. "Obtaining a type rating without flight time in the aircraft is commonplace in the industry."
But those industry players are facing pushback from a formidable foe: the Air Line Pilots Association, International (ALPA).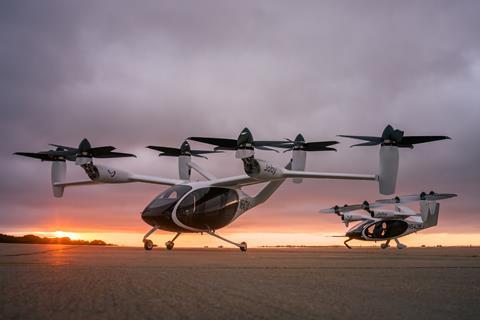 "ALPA is strongly opposed to allowing only a single set of controls, preventing an instructor or second pilot from being able to immediately intervene in the control of the powered-lift aircraft," the USA's largest pilots union tells the FAA in a letter.
Air taxis without dual controls "should not be operated in commercial civil operations", it adds. "ALPA will oppose any operation of a single-control system."
Industry players are also sparring over another provision in the FAA's proposal – a measure to require air taxis maintain the same flight-time reserves as traditional aircraft – 30min in visual and 45min in instrument conditions. The reserve rules require aircraft have enough fuel – or electricity – to fly that long after flying to the intended destination.
"The fuel reserve requirement stands out as a potential source of a significant incremental cost" and would "disrupt optimised charging cycles", says a study submitted to the FAA by air taxi developer Supernal. It estimates an aircraft's battery system would need to undergo hundreds more charges as a result, leading to "reduced battery life".
Because air taxis will have relatively minimal range to begin with, Joby says operators might be unable to "commence flights merely because of disproportionate energy reserve mandates".
Archer "recommends that the FAA consider performance-based requirements for energy reserves".
ALPA sees things differently.
It supports the FAA's stance, saying, "While current battery technology will make it difficult for electric powered-lift aircraft to comply at this time, typically limiting flight times from 15-45min, this is a necessary reserve requirement to achieve an equivalent level of safety".
One aircraft developer, Electra Aero, which is designing a fixed-wing electric commuter aircraft, agrees with ALPA: "Electric energy storage technologies still have significant uncertainties, which warrant this more-conservative approach."
Unlike an eVTOL, Electra's concept has wings to provide lift, meaning it will not expend the huge stores of electricity required for vertical flight.