The top Airbus executive in North America thinks industry conditions will improve at least incrementally in 2021 but that aerospace companies and airlines will emerge from the downturn changed in ways yet unknown.
Airbus Americas chief executive Jeffrey Knittel thinks travellers in the coming year will become more comfortable with the idea of hopping on a flight even without a widespread coronavirus vaccine.
That comfort, and the sheer scale of the air-travel-demand collapse earlier this year, should make 2021 the first year in what industry watchers expect will be a multi-year recovery, he says.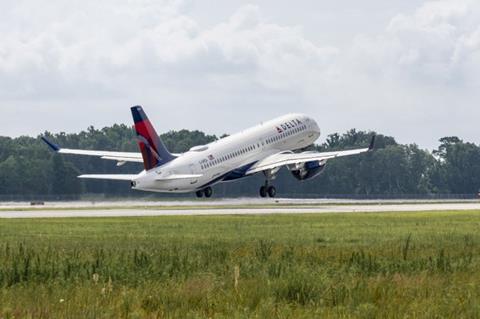 But, speaking to FlightGlobal, Knittel cautions that predictions remain fraught with uncertainty owing to the unprecedented breadth of the downturn.
"All those things are up in the air depending on how fast the rebound occurs," says Knittel. "I think it's too early to say specifically what those changes will be."
He stresses that Airbus is working closely with suppliers to keep the supply chain as healthy as possible, and he calls on US and European officials to remedy a trade dispute that he views as further pressuring an already hammered industry.
"People, I believe, will be more comfortable in travelling [in 2021] because they have a better understanding of what the safety profile is, in terms of the aircraft itself," Knittel says. "They will have a better understanding of what the factual travel experience is."
"It does give me optimism that next year will be better," he adds.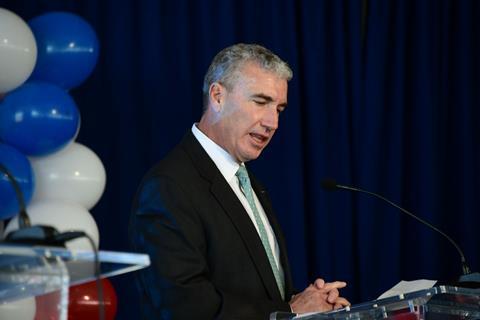 But that's not saying much, as Knittel notes travel demand in some regions plummeted 80-90% earlier this year when travel restrictions took hold.
Airbus this year launched a campaign called "Keep Trust in Air Travel" aimed at helping assure travellers that the air inside Airbus jets is clean.
Through that programme, Airbus has promoted that air systems on its jets recirculate cabin air every 2-3min, mixing fresh outside air with air purified by high-efficiency particulate air (HEPA) filters.
"The airflows are such that it eliminates or lowers the virus in the air by just filtering, and the speed of recirculation," Knittel says. "The quality of the air is very, very high."
Boeing recently launched a similar campaign called "Confident Travel Initiative".
Knittel says Airbus's effort can help passengers feel more comfortable travelling, though he refrains from making firm predictions about the state of the air travel industry next year.
INDUSTRY EVOLUTION
"At this point, one thing is clear: there will be certain changes", says Knittel. "Will there be refinement or rationalisation of hubs? I think that's likely."
Also, carriers might launch more point-to-point flights, bypassing hubs.
"There will obviously be some changes, but I would see it being a morphing of strategy," he adds. "Almost every airline views themselves as coming out of this substantially smaller."
US carriers have already announced new non-hub routes. Last week United Airlines said that this winter it will operate 28 new routes between Florida and US cities like Boston, Columbus (Ohio), Indianapolis, Milwaukee (Wisconsin) and Pittsburgh.
And, in a move that would have seemed unthinkable in 2019, airlines continue to wave reservation change fees, which long drew the ire of customer advocates.
Until recovery comes, Airbus – like all airframers – must conserve cash, ensure its supply chain remains viable, deliver the dozens of jets rolling off its lines every month, and keep trying to sell new ones.
Pressuring those efforts are an ongoing US tariff on imported Airbus jets and the fact that airlines are shying away from taking aircraft they do not need. Lack of demand has led Airbus and Boeing to accumulate increasing numbers of built-but-not-delivered aircraft.
On 17 August, Airbus's undelivered inventory stood at 155 jets, including nine A220s, 99 A320-family aircraft, 15 A330s, 27 A350s and five A380s, according to Cirium fleets data. Among those are seven Mobile-built A320-family jets and seven Mirabel-built A220s
Boeing has the same issue. Its undelivered fleet stands at 479 jets, including two 747s, nine 767s, nine 777s, 32 787s, two 737NGs and 425 737 Max – a type Boeing has been unable to deliver amid the grounding.
"Having produced aircraft in storage is a large negative in terms of cash flow," Knittel says. "We continue to work with customers… to be able to deliver those aircraft."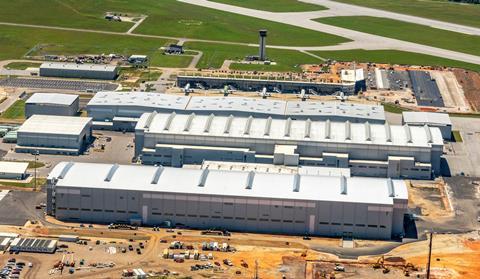 The tariff issue made news last week when the Office of the United States Trade Representative said it would leave in place a 15% duty on imported Europe-made jets.
The World Trade Organization green lighted tariffs in October 2019 as recompense for Airbus receiving state aid to launch the A350 and A380 programmes. The administration of President Donald Trump implemented the tariffs, but the dispute has been lumbering along for 16 years.
Europe is appealing the tariff decision and pursuing a separate case alleging Boeing also benefited from state aid.
A220s and A320s produced at Airbus's Mobile, Alabama assembly site in the USA are not subject to tariffs. US carriers are receiving those jets but also still taking Europe-made aircraft, says Knittel. He declines to specify how tariffs have affected the company's deliveries.
However, Knittel says tariffs further pressure an already damaged industry and counter efforts by the US government to prop up struggling airlines. Earlier this year, the US Congress set aside nearly $60 billion in loans and grants to US carriers.
"It makes no sense to impose the 15% tariff and hurt the airlines that the administration is working so hard to help," says Knittel. "It's certainly not in the best interest of the airlines and it's not in the best interest of the consumer."
"We believe that the best thing to do today is sit down and negotiate and come to a resolution," he adds.
In the meantime, Airbus is working to shore up its finances and restructure its operations in the Americas and globally so as to align with decreased demand.
The company, which had 135,000 employees at the end of 2019, intends to cut 15,000 jobs – about 11% of its workforce – by summer 2021. It has furloughed contractors in the USA and implemented a voluntary employment separation programme for staff in the Americas, and will assess if "further resizing might be required", Airbus says.
"Every single project… has gone through a thorough evaluation," Knittel says. "We are looking at anything that is non-essential."
MOBILE PRODUCTION
In January, prior to the pandemic, Airbus said it intended to boost A320 production at Mobile from five to seven jets monthly by 2021, and to bring A220 production there to four jets monthly by mid-decade. By then, it expected combined Mirabel-Mobile A220 production would hit 10 jets monthly.
But in April Airbus said it was cutting A320 production company-wide by one-third, from 60 to 40 jets monthly.
The airframer declines to specify the downturn's specific impact on Mobile's production, noting it does not disclose rates by production location. But Knittel says the US site will be affected "proportionately".
Cirium data shows the company delivered 22 Mobile-assembled A320s in 2020 through 17 August, all to US airlines. Mobile deliveries had slowed to a trickle from April through June – a period that included a temporary production shutdown and travel restrictions stemming from the pandemic.
But handovers have since picked up, with Airbus delivering five Mobile-built A320neo-family jets in July, data shows.
Airbus has not yet delivered any A220s from Mobile, having started assembling the first A220 there last year.
But the company's Mirabel assembly site in Canada delivered 13 A220s this year, data shows.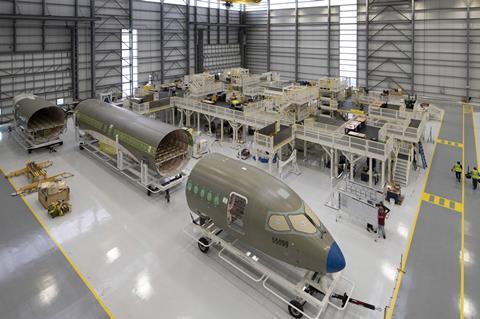 Knittel declines to speculate when Airbus suspects it might be able to return to building 60 A320s monthly.
"It's hard to be predictive in an environment that the world has never gone through before," he says.
That the A220's production ramp had been slow long before the pandemic is playing in that programme's favour, he adds.
"Because the ramp up was relatively slow, it aligns with this new environment we are in," says Knittel. "We had not been particularly aggressive in the ramp up so that has worked out relatively well."
Like Boeing, though perhaps not to the same degree, Airbus has its share of supply chain concerns. Suppliers have been scrambling to adjust to reduced production rates, with many laying off staff and slashing costs.
"The supply chain on the Americas side has, in general, held up," Knittel says. "Obviously, the suppliers are under pressure just like we are as OEMs."
Aerospace analyst Alex Krutz suspects Airbus's suppliers are generally weathering conditions better than Boeing's suppliers, who have also been hammered by production cuts stemming from the 737 Max grounding.
Knittel says Airbus spends some $15 billion annually with suppliers in North America.
Those companies likely include engine maker Pratt & Whitney and major suppliers of avionics, software and some system components, says Krutz, managing director at aerospace and defence advisory Patriot Industrial Partners.
But, he says, Airbus remains "primarily supplied" by European companies.
Earlier this year, due to the pandemic, many European suppliers shut down for six to eight weeks – much longer than some of Boeing's US-based suppliers. That pause in production may have spared Airbus from a more-severe oversupply of inventory, Krutz says.
When the eventual recovery does take hold, Knittel insists the capability of Airbus's jets will leave the European airframer well positioned.
SINGLE-AISLE RECOVERY
Domestic, shorter-haul travel has already shown an uptick, and experts expect domestic air travel demand will continue recovering much faster than long-haul, international air travel.
Knittel suspects airlines, as they add routes back to their networks, will want narrowbody jets capable of flying an assortment of routes. Those include long-haul routes on which airlines previously deployed widebodies, but which now lack sufficient demand to fill big jets.
"Having a 220 that can fly larger-gauge routes is important and helpful, and having a 321 at the other end of the single-aisle range, that can fly widebody routes, is also very helpful," Knittel says. "In this environmental airlines want that type of flexibility."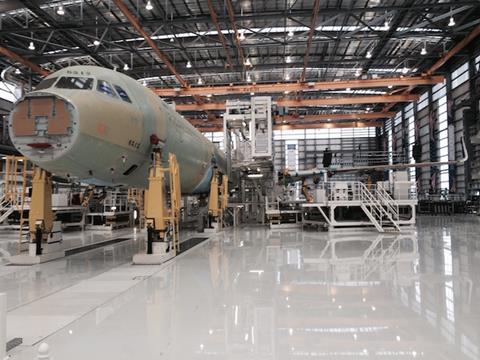 The roughly 100-120-passenger A220-100 has 3,400nm (6,297km) range, while the larger, 120-150-passenger A220-300 has 3,350nm range – meaning the jets can operate transcontinental North American routes.
Meanwhile, Airbus continues developing its A321XLR, a roughly 200-seat jet with an advertised 4,700nm range. Airbus has said it will begin delivering that type in 2023.
Prior to the pandemic, the A321XLR proved a hot seller. At the end of 2019 Airbus said it held orders and commitments for 450 of the jets.
Boeing's Max had also sold well, particularly with long-time 737 operators such as Ryanair, Copa Airlines, Gol and Southwest Airlines. Analysts expect those airlines will still make the Max the bedrock of their fleets, assuming regulators clear the jet to fly.
Analyst Krutz agrees the A321XLR has an edge over Boeing's Max. Putting aside the Max's grounding, A321XLRs will have slightly more range and capacity than the Max – capabilities that might allow airlines to resume flights on now-dormant former widebody routes, such as those across the Atlantic.
"I think they are actually in a bit better position than Boeing… because of the A321XLR," Krutz says of Airbus.