The world's airlines are again clamouring to get their hands on narrowbody and widebody jets, with Airbus and Boeing riding a wave of demand that accelerated swiftly in the first half of 2023.
The aerospace industry has been waiting for this moment of recovery since the Covid-19 pandemic flattened demand for air travel early in 2020.
The sector always suspected business would bounce back, though the question of when remained guesswork, and for many months the recovery appeared to be limping along.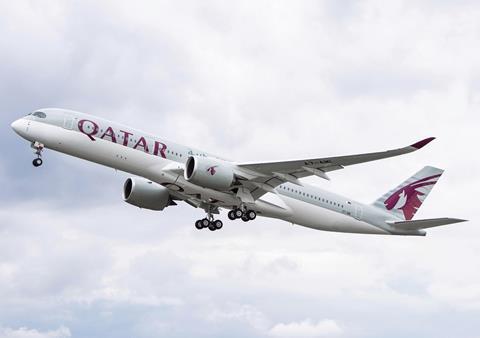 But first-half 2023 order figures released by the world's two prime aircraft manufacturers reveal a change in the air.
Airbus and Boeing each landed far more orders in the first six months of this year than they did in the same period last year. Much of the order momentum came during last month's Paris air show, and from two large India airlines.
And although Airbus bested Boeing in first-half order totals, the US giant held its own, securing notable new sales.
That good news comes as the companies are also progressing in getting more new jets through their factories. Both are showing signs they are beginning to overcome some of the constraints imposed by a long-battered supply chain.
But the real test lies in the months and years ahead, when Airbus and Boeing will demonstrate if they are able to meet the formidable production demands for which they have signed up.
AIRBUS BREAKS 1,000-UNIT MARK
Airbus closed the first half of 2023 having received new orders for 1,080 aircraft, though 36 cancellations brought its net new orders for the six-month period to 1,044, the company's data shows. That is an impressive figure, being four times the 259 net new orders Airbus took in the same period last year – indicating that bullishness pervades airline board rooms.
Airbus's first-half 2023 net orders included deals for a whopping 936 narrowbody jets, among them 33 A220s and 903 A320neo-family aircraft.
Airbus's first-half 2023 orders
Type
Orders
Cancellations
Net orders
A220-300
33
33
A319neo
2
1
1
A320neo
390
29
361
A321neo
546
5
541
Total narrowbodies
971
35
936
A330-800
1
1
A330-900
7
1
6
A350F
4
4
A350-900
21
21
A350-1000
76
76
TOTAL
1,080
36
1,044
Source: Airbus
Notably, airlines and aircraft lessors are increasingly putting their deposits behind A321neos, a type that has proved particular popular for its economics on medium-haul and high-demand routes, including those across the Atlantic Ocean.
Of Airbus's 903 net A320neo orders received during the six-month period, 541 were A321neos, a bump that suddenly made the A321neo Airbus's best-ever selling jet. The company has now taken total orders for 5,163 of the stretched type, edging out 4,763 orders for the original A320.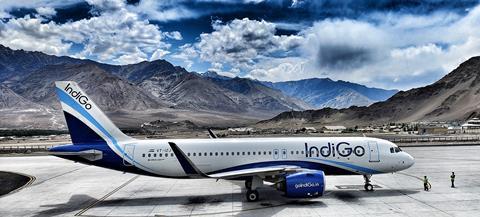 Airbus's first-half 2023 figures also signal that demand for long-haul air travel is returning. The company closed the period having taken orders for 101 A350s, including four freighters, 21 of the -900 variant and 76 of the larger -1000, its data show.
With those deals, Airbus's total number of A350 orders broke the four-digit mark, hitting 1,026 – a milestone reflecting the company's progress in competing its A350 against the 787. The Boeing jet still holds the sales lead – Boeing has logged more than 1,600 total orders for 787s – but the A350 is making strides.
A large share of Airbus's orders this year came from two major deals with Indian carriers at the Paris air show. On 19 June, discounter IndiGo signed to purchase 500 A320neo-family jets – the largest order Airbus has received in recent memory. The deal includes orders for 125 A320neos and 375 A321neos, though Airbus says the split could change.
One day later, on 20 June, Airbus said Air India firmed its own order for 250 Airbus jets, including 140 A320neos, 70 A321neos, 34 A350-1000s and six A350-900s.
BOEING BOUNCES BACK
Boeing similarly reported a much stronger start to 2023. It landed new orders for 527 jets during the period, though its net orders came to 415 when accounting for 112 cancellations. By comparison, Boeing secured 186 net new orders in the same period last year.
The improvement reflects significant progress made by the US manufacturer in restoring positive momentum to both its 737 Max and 787 programmes.
Boeing's first-half 2023 orders
Type
Orders
Cancellations
Net orders
737 Max
366
83
283
767
15
15
777
31
23
8
787
115
6
109
TOTAL
527
112
415
Source: Boeing
The future of the Max programme had been unclear following a 20-month grounding that ended early during the Covid-19 pandemic, which further dampened interest. All along, while industry analysts urged Boeing to launch development of a 737 replacement, Boeing executives resisted, insisting instead that the Max was still the aircraft that would carry the company into next decade.
Boeing has of late put real momentum behind the Max, having signed deals with several major carriers in recent months, and landing 283 net Max orders in 2023 through June, up from 152 in the first six months of 2022.
Boeing also has Air India to thank for a chunk of its sales. In addition to signing for Airbus jets during the Paris show, the carrier ordered 220 Boeing aircraft, including 190 737 Max, 10 777X and 20 787s.
Boeing's recent success selling 787s has extended well beyond the Air India deal.
In June, the manufacturer finalised an order for 39 of the widebody twin-jets from Saudi Arabian start-up Riyadh Air. Other airlines to order the type this year include Air Niugini, Eva Air, Lufthansa and lessor Air Lease, and Boeing has disclosed orders for some 40 787s from unidentified buyers.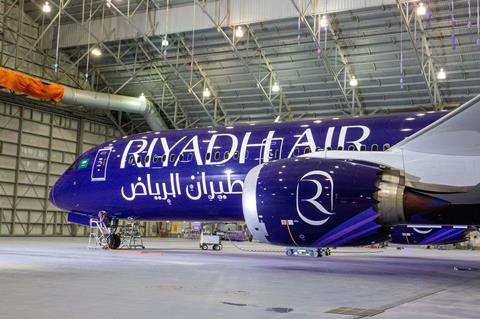 The deals left Boeing with 109 net new 787 orders received during the first half of 2023 – marking a rebound of sorts following manufacturing quality troubles that led Boeing to halt 787 deliveries for about 22 months until August last year.
Both Airbus and Boeing ended the half-year mark sitting on significantly larger backlogs than one year earlier – Airbus with unfilled orders for 7,967 jets (up from 7,046 in June 2022) and Boeing with 4,879 aircraft in its backlog (up from 4,239).
Both companies are also having some success in ramping aircraft deliveries – which they have been trying to do, working against supply chain troubles, for most of the last two years.
Boeing's first-half 2023 deliveries came to 266 aircraft, including 211 737 Max. By comparison, it delivered 216 jets, including 181 Max, in the first six months of last year.
Boeing's output ramps with resumed 787 deliveries
Type
First-half 2023 deliveries
First-half 2022 deliveries
737
216
189
747
1
3
767
9
12
777
9
12
787
31
0
TOTAL
266
216
Source: Boeing
Airbus has been doing better, passing the half-year with 316 deliveries, including 281 narrowbodies (A220s and A320neo-family types). In the same six months of 2022, Airbus delivered 295 aircraft, among them 255 narrowbodies.
Boeing has said it aims to hike 737 production from a current rate of roughly 31 monthly to 50 monthly by 2025 or 2026. To accommodate that uptick, it intends next year to open a fourth 737 production line, located not in the 737's longtime Renton assembly base, but rather in Everett, where Boeing has long produced widebody jets.
Similarly, on 10 July Airbus said it had opened a new A320neo-family final assembly line at its Toulouse facility, part of a strategy to ramp production to 75 of those narrowbodies in 2026.
Airbus's first-half 2023 deliveries inch higher
Type
First-half 2023 deliveries
First-half 2022 deliveries
A220
25
25
A320neo family
256
230
A330
14
13
A350
21
27
TOTAL
316
295
Source: Airbus