Airbus's Hamburg Finkenwerder assembly site has started delivering aircraft powered by a sustainable-fuel blend, handing off an A321LR to Canadian carrier Air Transat.
The European airframer has delivered jets powered by sustainable fuel since 2016, but until now only from its Toulouse facility and the US assembly site in Mobile, Alabama.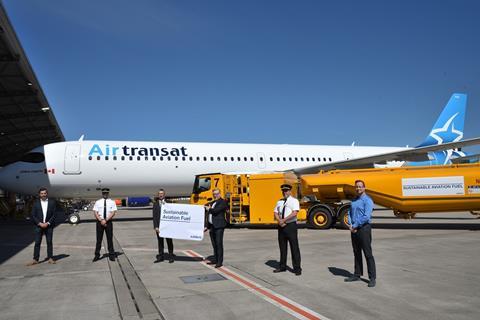 Montreal-based Air Transat expects to take delivery of a second sustainably-powered A321LR on 18 July. The aircraft are fitted with Pratt & Whitney PW1100G engines.
The jets are among 17 A321neos, including 16 long-range LR variants, that Air Transat intends to lease from AerCap. Air Transat will have six A321LRs in its fleet after the next delivery.
For the delivery flights, the jets are burning a "kerosene blend continuing 10% sustainable aviation fuel" supplied by Air BP and manufactured by Neste, a Finnish company.
Neste produces the sustainable fuel using a "hydro-processed esters and fatty acids process", says the airline. That type of fuel can be made from organic materials such as used cooking oil, animal fats and algae.
Purchased carbon credits offset the carbon output of the non-sustainable portion of fuel burned during the delivery flights, making the deliveries carbon-neutral, Air Transat says.