For the fourth consecutive year, European airframer Airbus in 2022 delivered more aircraft and received more net orders than its arch rival Boeing.
The companies disclosed their 2022 order and delivery figures on 10 January, revealing that Airbus continues leading both categories but that Boeing is catching up, having resumed 787 deliveries, ramped 737 Max shipments and bested Airbus in the widebody segment.
The year-end delivery totals also reflect, say executives, production systems hampered by shortages of aircraft components.

"Boeing had a good last-quarter upturn in deliveries. But in orders, market position, backlog and most other indicators it continues to fall behind Airbus," says aerospace analyst Richard Aboulafia with AeroDynamic Advisory.
Airbus ended 2022 having delivered 661 aircraft during the year, with Boeing following with 480 shipments.
Both figures remain significantly depressed from the heady years preceding the 737 Max grounding and Covid-19-driven downturn – in 2018 Airbus and Boeing each delivered about 800 jets.
Still, both airframers' 2022 delivery totals are up significantly year on year – most notably Boeing's. That improvement came as the manufacturers addressed production challenges and rode the broader commercial aviation rebound.
While Airbus led in deliveries, it missed its 2022 goal by 40 aircraft. Boeing, on the other hand, actually exceeded its 2022 737 delivery target by several units, albeit that the company had revised the goal downward twice during the year.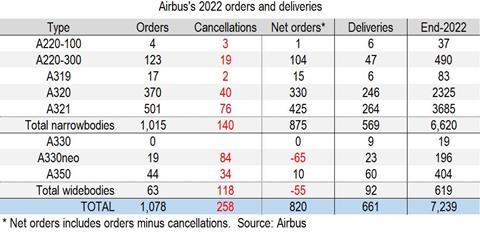 By aircraft type, Airbus's A320neo-family programme led the pack in 2022. The company delivered 516 of the those jets last year, among them 264 of its increasingly popular A321neo. Including 53 A220 deliveries, Airbus shipped a total 569 narrowbody jets in 2022.
Boeing, meanwhile, closed 2022 having delivered 387 737s, including 13 737NGs – mostly for military conversion – and 374 737 Max. It had aimed to deliver 375 737s in 2022.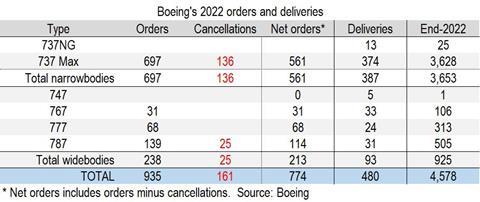 The US company eked out a lead in the widebody delivery category, shipping 93 of those jets last year, including five 747s, 33 767s – 15 for conversion into military tankers – 24 777s and 31 787s. Those numbers would have been greater had Boeing's 787 deliveries not been halted for more than half of 2022. It did not ship any examples of the twinjet while developing rework needed to fix fuselage-related manufacturing quality problems; Boeing resumed 787 deliveries in August 2022.
Airbus delivered one fewer widebody jet than Boeing last year – 92 aircraft in total, including 32 A330s and 60 A350s.
ORDERS AND CANCELLATIONS
On the order front, Airbus bested Boeing with a modest lead, ending the year having logged new orders for 1,078 aircraft.
"The significant order intake covering all our aircraft families, including freighters, reflects the strength and competitiveness of our product line," says Airbus chief executive Guillaume Faury. "We continue our ramp-up trajectory to deliver on our backlog."
But 258 cancellations (including for 118 widebodies) winnowed Airbus's net new orders last year to 820 aircraft, including 105 A220s and 770 A320neo-family aircraft. Airbus closed the year with negative orders for 55 widebody aircraft.
Notably, the A320neo-family orders included deals for a whopping 501 A321neos – a high-capacity variant that has enjoyed strong recent sales success.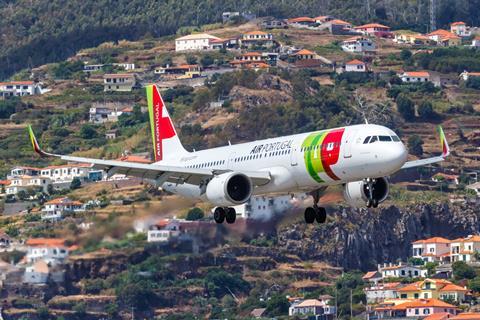 Boeing's ostensible competing aircraft – the 737 Max 10 – cannot match the A321neo's range and has not yet been certificated.
"The A321neo continues to gather steam, and Boeing continues to deny that it needs to develop a new jet," says Aboulafia, who has repeatedly warned that Boeing will bleed market share until it develops a narrowbody replacement. "Worse, [Boeing will] continue to risk losing the engineering and design teams needed to create a new jet."
But Boeing did make significant order gains in 2022, ending the year not far behind Airbus. It received a major boost in December when United Airlines said it ordered 100 737 Max and 100 787s. Boeing now confirms, however, that those figures included existing undisclosed orders for 10 of each type, meaning 90 orders for each jet were new.
Also in December, lessor BOC Aviation handed Boeing a 40-strong 737 Max order – a win partly offset by BOC's prior cancellations – while Hawaiian Airlines ordered two more 787s.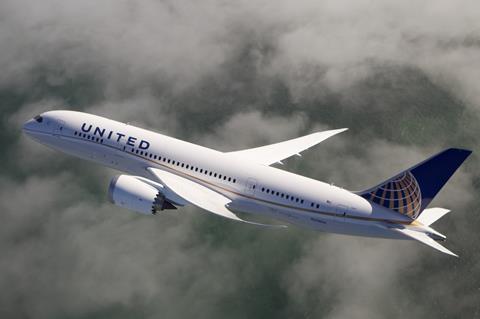 Such deals brought Boeing's full-year 2022 orders to 935 aircraft, offset by 161 cancellations to 774 net new orders, including for 561 737 Max. The numbers mark massive improvement from the 479 net orders Boeing reported in 2021 and its negative 471 net orders in 2020.
Also, in contrast to Airbus, the US manufacturer enjoyed broad demand for widebody jets last year, taking net new orders for 213 twin-aisles, including 31 767-300Fs, 68 777s and 114 787s.
"As the airline industry expands its recovery, we are seeing strong demand across our product family, particularly the highly efficient 737 Max and the 787 Dreamliner," says Boeing Commercial Airplanes president Stan Deal.
All in all, the 2022 figures reveal that both companies are progressing in building their businesses back following the Covid-19 market shock. But they remain far from fully recovered, with both firms recently reporting that production remains constrained due to nagging shortages of parts – from cabin interior components to wiring, windows and engines.
Airbus's Faury says his company's 2022 delivery performance is "obviously less than we were targeting", citing the "complexity of the operating environment".
Labour issues and quality shortcomings also hindered Boeing's 737 Max production.
"We worked hard in 2022 to stabilise 737 production, resume 787 deliveries, launch the 777-8 Freighter," says Boeing's Deal. "We will stay focused on driving stability within our operations and the supply chain."