Airbus will stop buying Russian titanium with the last delivery in a "matter of months" as the airframer looks to reorientate its supply chain in the wake of the Ukraine war.
Speaking at the Airbus Summit 2022 event in Munich today, Michael Schoellhorn, chief executive of Airbus Defence & Space, said the project to diversify away from Russian sources was "in full swing".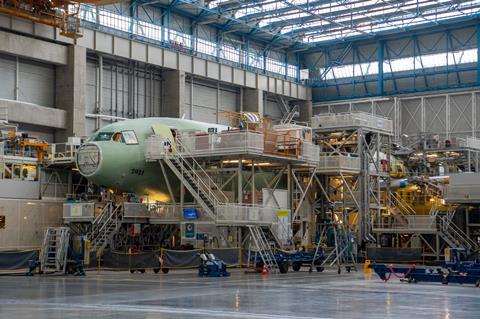 "Clearly the aim is to not be dependant on Russian titanium," he says. "We are in the process of decoupling from Russian sources."
The defence business has already eliminated Russian titanium and the same point will be reached in the commercial unit in a "matter of months not years", he says.
However, Schoellhorn notes the "relatively complex process" of certificating new suppliers given the aerospace industry's strict regulations. "But it will happen," he says.
Airbus has previously called on the EU not to implement sanctions on Russian titanium suppliers, arguing that it would harm the bloc's aerospace industry without hurting Russia's economy.
Airbus sources most of its titanium from VSMPO-Avisma, part of Russian industrial conglomerate Rostec.
Schoellhorn says the invasion of Ukraine by Russia has forced European manufacturers to re-evaluate their supply chains to ensure more resilience.
He says nations must also do the same when buying defence equipment in order to "not make ourselves dependent unilaterally on one source or one power."