Airbus will need to sell at least 150 examples of its A350 freighter for the programme to be considered a success, according to a leading analyst.
Jonathan McDonald, head analyst at consultancy IBA Group, says that sales of 150-200 units would mark a good return for the proposed freighter derivative.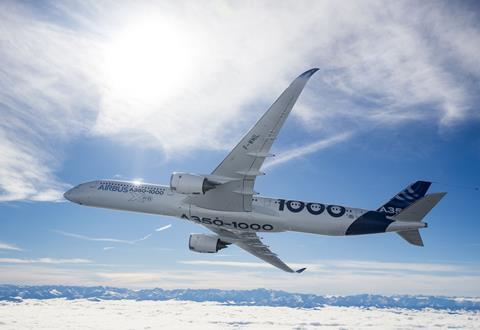 Airbus last month announced that it had obtained board approval to launch the A350F, which will be substantially based on the -1000 variant and have a payload of around 90t.
McDonald says the airframer is "clearly targeting the heavy widebody sector" which is "pretty Boeing dominated" at present, thanks to its 777F and 747-8F programmes.
Launch of the A350F is effectively an admission by Airbus that it is "a little bit under-represented in the heavy freighter market", he adds.
A payload of 90t would put it "slap-dab in MD-11F territory", says McDonald. There are 104 examples of the legacy McDonnell Douglas type still in service, with a further six examples parked, according to IBA InsightIQ data; the majority are operated by FedEx and UPS.
Securing orders from the two logistics giants will be key for the new programme, he says. However, Airbus will need to do more than replace MD-11Fs to hit the 150-sales mark and could also target operators of ageing 747-400 freighters. IBA InsightIQ data shows there are 194 examples, both factory built and conversions, still in operation, plus another 13 parked aircraft.
While the maximum payload of the -400F is higher, at 113t, with the termination of the 747-8F programme next year, Airbus could still take advantage of a replacement need.
And should Airbus deliver the A350F by 2025 as planned, then it will at least have first-mover advantage over Boeing, which has yet to decide whether to offer a freighter variant of its developmental 777X.
In McDonald's view a 777-8F is unlikely to arrive much before 2028, giving its rival a three-year head-start.
"Airbus has seen a little bit of a gap there and it believes it can leapfrog Boeing with a new technology aircraft," he says.
Boeing still holds 52 orders for the current -200LR-based 777F, according to the airframer's data, and is likely to continue production in parallel with the first passenger 777-9s.
To date, it has handed over 209 examples of the widebody freighter since first delivery in 2009, its data shows.
In contrast, Airbus earlier this year cancelled the three outstanding orders for its only factory-built freighter programme, the A330-200F. It has delivered just 38 examples of the widebody cargo variant.
Airbus is also banking on the fuel efficiency of the A350F to see off any potential competition from the 777-300ERSF conversion programme being developed by Israel Aerospace Industries (IAI) and lessor GECAS.
While McDonald considers the IAI/GECAS conversion will deliver a "hell of an aircraft" he notes that "you have got to remember that when those aircraft [re-enter service] some of those earliest aircraft will be 19-20 years old".
And although the 777's GE90-115BL is a "great engine" it is now "technically superseded by the Trent XWB" on the A350, he says. Therefore "Airbus is counting on the better fuel efficiency" of its new-build freighter to be a key differentiator for certain operators.
For others, however, a list price likely to be three times higher than that of a converted 777 could be too steep.
That view is supported by IAI Aviation Group general manager Yossi Melamed, who shrugs off threat from the A350F. "In our eyes, conversion eyes, we don't see a [new-build] freighter as a competitor," he says, adding that such aircraft tend to be acquired by companies "which have a philosophy" of using new-build aircraft. "I'm not in this game."