Airbus has invested in Canadian firm Carbon Engineering to help fund development of technology that extracts CO2 from air, freeing it to be stored or used to produce fuel.
The move comes after United Airlines and Virgin Atlantic agreed to support Carbon Engineering's so-called "direct air capture" technology.
Airbus disclosed the investment on 17 November but declines to specify the amount, saying "We do not disclose the financial figures behind specific investments".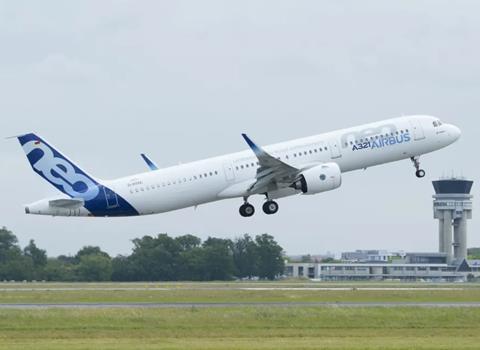 "The investment will contribute to funding part of Carbon Engineering's advanced direct air capture… technologies at the company's innovation centre" in Squamish, British Colombia, Airbus says. "The investment in Carbon Engineering is a key part of Airbus' global climate strategy."
Carbon Engineering's process involves using fans to pull air over "thin plastic surfaces that have potassium hydroxide solution flowing over them", it says. That solution "binds with the CO2 molecules, removing them from the air and trapping them."
The "captured" CO2 can them be stored underground, which Airbus says would "allow the [aerospace] sector to extract the equivalent amount of emissions from its operations directly from the air, thereby counterbalancing residual emissions".
The CO2 could also be used to produce "synthetic" aircraft fuel, according to Airbus.
The International Energy Agency says 18 "small scale" direct air capture facilities are operating in the USA, Canada and Europe, with another 11 facilities in "advanced development".
United in December 2020 said it invested in a company called 1PointFive for the purpose of helping fund development of a direct air capture facility using Carbon Engineering's method.
In 2021, Virgin said it agreed to become a customer of a direct air capture facility in Scotland being developed by Carbon Engineering and UK company Storegga.