Airbus will in 2026 begin flight testing a new fuel cell-based powertrain that has been developed in-house aboard its A380 MSN1 flying testbed, expanding the hydrogen propulsion trials intended for the superjumbo.
Disclosing the initiative at its Summit 2022 event in Toulouse today, Airbus said it had already built an initial demonstrator system.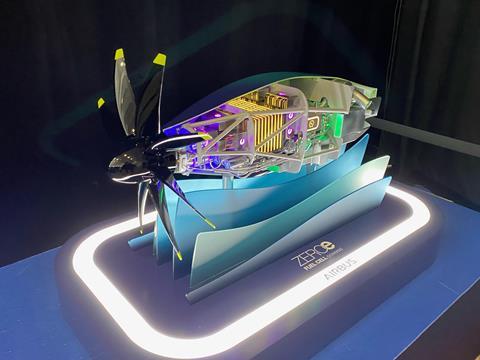 "We have been able to design and to develop the first fuel-cell engine demonstrator at lab scale which is already reaching two-megawatt class," says Hauke Ludders, head of fuel-cell propulsion systems for ZEROe.
Laboratory tests of the underlying systems for the fuel cell powertrain will continue until the end of 2023, says Mathias Andriamisaina, head of ZEROe demonstrators and tests at Airbus.
At that point a "second step" is envisaged, he says, "which will be more integrated equipment, but also flight-qualified equipment", allowing the company to "take this technology into the air".
Airbus sees a need for a 2MW-system to power the 100-seat, 1,000nm (1,850km)-range aircraft being contemplated under its ZEROe programme.
However, a scaled version of the powertrain, sized at around 1MW, will be used for the flight tests.
In February, the airframer disclosed that it would use the same A380 for tests of hydrogen-burning turbofan in partnership with CFM International, modifying the upper port-side fuselage to incorporate an engine pylon.
Airbus will take advantage of the addition of the "stub" pylon and related structural reinforcement from that effort, plus the hydrogen fuel system, to also test the fuel cell powertrain, says Andriamisaina.
While the hydrogen-combustion trials will use four fuel tanks, each sized to hold 125kg of liquid hydrogen, the fuel cell system requires just one tank.
Flight tests are due to run over the 2026-2028 period, taking the fuel cell system to technology readiness level 6 or 7, says Glenn Llewellyn, vice-president zero-emission aircraft at Airbus.
Although the in-house powertrain development threatens to reverse Airbus's traditional role as a customer rather than producer of propulsion systems, Llewellyn says no decision has been taken on the go-to-market strategy.
"I think the first point to highlight is that right now we are developing the technologies… and we are developing the methods for integrating those technologies into a fuel cell-type engine.
"It doesn't mean Airbus will do this on its own. In a subsequent step, if we decide to commercialise that technology we might decide that's the best approach, but we could equally also decide to partner," he says.
"We need to drive the technology forward and that's why see this as our duty to really significantly invest and to really understand that because also this technology will influence the overall aircraft design and we need to consider it as a global package," adds Ludders.
Llewellyn points out that there are already several partnerships in place to support the demonstrator system. These include internal suppliers – Airbus Helicopters is helping to develop the gearbox and propeller – joint ventures such as the Aerostack fuel cell business Airbus established with Erlingklinger, and external companies such as the undisclosed electric motor supplier.
In its current iteration, the powertrain features a gearbox and propeller, but Andriamisaina says other configurations are under consideration such as eliminating the gearbox, depending on the speed range of the motor, or adding a ducted fan.
"We have different concepts. With fuel cells and electric propulsion you can play with different designs," he says.
Airbus is considering two different aircraft under its ZEROe initiative, one sized to transport 100 passengers on routes of 1,000nm and the other, 200 passengers on 2,000nm routes.
Llewellyn says hydrogen propulsion appears feasible for both designs but thinks it will be harder to scale a fuel cell powertrain to the size required for the larger aircraft.
No decision on the final architecture of either aircraft has been taken, he stresses, with a launch decision expected around 2028 to permit service entry in 2035.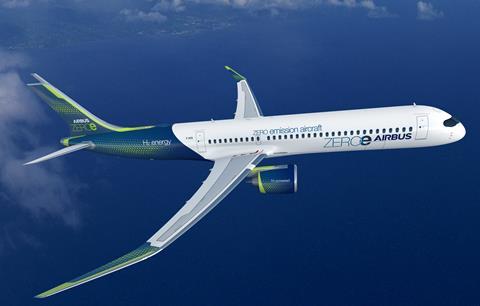 And while it is not within the scope of ZEROe, regional aircraft manufacturer ATR – a joint venture between Airbus and Leonardo – could also benefit from the technologies being matured.
"We work closely with them on their product strategy and the different technologies that could provide opportunities for that platform.
"At some point, maybe when we have developed the technologies and understand the potential a bit better, we might then consider what it means for ATR's evolution. But we are not yet at that stage."
In addition, Airbus has revealed partnerships to support the development of the wider hydrogen ecosystem required to allow the ZEROe aircraft to enter service. These include an agreement with ArianeGroup – 50% owned by the airframer – to build a liquid hydrogen refuelling facility a Toulouse Blagnac airport, and a pact with HyPort covering the production and distribution of green hydrogen at the site.
Airbus also detailed two further agreements to accelerate its decarbonisation efforts: a partnership with automotive manufacturer Renault Group to mature next-generation battery systems, and with Neste to advance the production and uptake of sustainable aviation fuel.