Airbus is reducing the size of its North American operation, trimming jobs and cutting production, as part of the Europe-based airframer's global response to the coronavirus pandemic.
The changes include putting some North American projects on hold as Airbus aims to conserve cash at a time when airlines are shying from receiving new jets, says Airbus Americas chief executive Jeffrey Knittel.
But Knittel expresses optimism in the industry's recovery, stressing he thinks Airbus has the right products for the eventual rebound.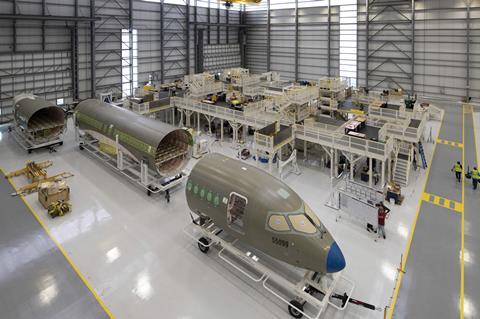 "There is a reduction we are working through in Mobile," Knittel tells FlightGlobal. The company assembles A320s and A220s in Mobile, its primary North American commercial aviation facility.
In April, Airbus said it was reducing its global A320-family aircraft production rate from 60 to 40 jets monthly.
"Mobile will share proportionately in that reduction," Knittel says.
The company does not break out production rates among its production sites, citing competitive reasons.
But earlier this year, before the pandemic, Airbus said it planned to boost A320 production at Mobile from five to seven jets monthly, and to increase A220 production in Mobile to four jets monthly by the mid-2020s.
To accommodate that plan, Airbus had intended to hire another 270 employees in Alabama and spend $40 million to build another Mobile support hangar.
Knittel does not specifically address the state of that expansion plan, but stresses that Airbus is "re-optimising" its operation to reflect "the most-realistic way forward".
"Many individual projects have been put on hold, as they should be, as we try to optimise not only production levels, but, importantly, focus on cash containment," he says.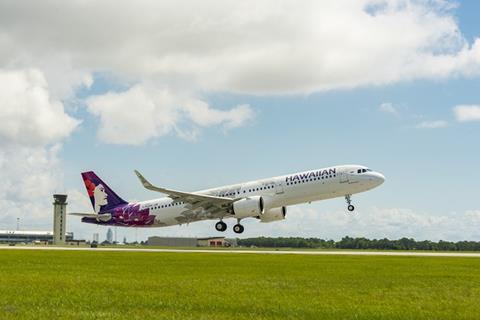 The North American changes follow news in June that Airbus will cut 15,000 jobs by summer 2021 – its response to the airline industry downturn.
The cuts will include 5,100 jobs in Germany, 5,000 in France, 1,700 in the UK, 900 in Spain and 1,300 elsewhere in the world, the company said.
In North America, Airbus has "implemented a number of furloughs in areas where the workload has been temporarily reduced", Airbus says. That includes eliminating 50 subcontracted engineers at a Wichita engineering site and laying off about 40 subcontractors in Mobile.
Additionally, Airbus implemented a voluntary employment separation programme for staff in the Americas. It says most job cuts impacted staffers in the commercial aviation business, which the downturn has particularly hammered.
"Once we have assessed the scope of the voluntary separations, we will be able to judge whether any further resizing might be required," Airbus says. "Our goal is to have completed any resizing no later than summer 2021."
Knittel notes Airbus's inventory of undelivered jets has increased the need to conserve cash. The inventory increased as the pandemic has dragged on, leaving airlines shying from taking delivery of new jets at a time of decreased demand.
As of mid-August, Airbus had an inventory of about 150 new, undelivered jets, according to Cirium fleets data. Airframers typically receive the bulk of aircraft payments at the time of delivery. Data shows that Boeing's undelivered jet inventory has also swelled.
"We have taken substantial steps both globally and in the Americas to improve our cash position," Knittel says. "That means every single project… goes through a process to ensure that it makes sense today given this current environment."
"We are looking at anything that is non-essential," he adds.
The review targets all Airbus's "individual businesses and functions", including its Silicon Valley innovation arm A3, which is advancing technologies like machine learning.
A3's "budget and its people count has been reduced… just like every other organisation within Airbus", Knittel says. "You can assume it's felt its proportionate share of the pain."
But Knittel stresses Airbus remains committed to A3 and values a Silicon Valley footprint.
"It's an innovation lab," Knittel says of A3. "Having an organisation and operation there allows you access to the types of resources that you need to excel."
Knittel suggests Airbus does not intend, during the current downturn, to progress with development the "A220-500" – a larger variant of the A220.
"Given the environment of Covid and given the cash containment that the industry is under… I think those types of developments, if they were to occur, would be into the future," he says.
But he believes the range and capacity of Airbus' existing single-aisle lineup make the types well suited amid a recovery.
Knittel specifically notes the A220's transcontinental range and the eventual ability of the in-development A321XLR to operate longer-range routes historically served by widebodies.
"When clarity isn't perfect, having flexibility is important," Knittel says.
Story corrected on 14 August to note Airbus intends to boost A220 production to four jets monthly by the mid-2020s in Mobile, not across both A220 production sites.