Airbus has disclosed broad strokes of a programme to significantly advance wing technology by developing a wing capable of adjusting its shape automatically in flight.
Called the "extra-high-performance wing demonstrator" programme, the effort is intended to drive a step change in wing aerodynamics for the purpose of curbing the carbon output of future aircraft, the Toulouse airframer says on 22 September.
The project will include flight tests using a Cessna Citation VII,
Airbus aims to fly the extra-performance wing demonstrator aircraft by mid-decade, says chief technology officer Sabine Klauke, and it could have a potential application on a next-generation aircraft.
Airbus hopes the wing can produce fuel-efficiency benefits comparable to or even better than "sharklets", she says.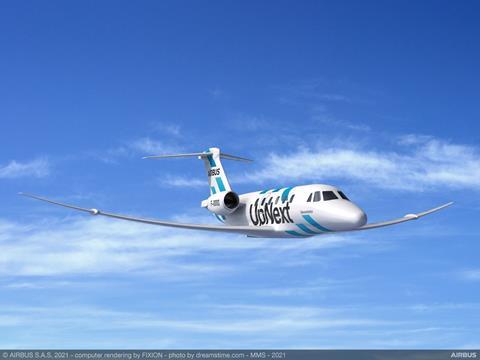 Airbus did not immediately respond to a request for more information from FlightGlobal.
Through the technology-advancement project, Airbus will develop a wing that "would be compatible with any propulsion solution and aircraft configuration, and would reduce CO2 emissions, contributing greatly to Airbus' de-carbonisation roadmap", the company says.
Airbus revealed the project on the second day of an Airbus-hosted event focused on technologies that can potentially improve efficiency. The airframer released a digital rendering of a Citation equipped with an "extra-performing" wing that appears to have a high aspect ratio. Boeing has also been studying high-aspect-ratio wings for a future jet.
Airbus chief technical officer Sabine Klauk says the effort aims to advance "novel" wing technologies. Features under study include technologies allowing a wing to adapt its "shape, span and surface" in ways similar to birds.
To achieve that, Airbus will evaluate "active" wing controls such as "gust sensors [and] pop-up spoilers or plates that are rapidly deflected perpendicular to airflow". Other possible features include "multi-functional trailing edges that dynamically change wing surface in flight, and a semi aero-elastic hinge".
The "extra-high-performance wing" programme sits within Airbus UpNext, a subsidiary of the airframer that focuses on advancing "radical technological breakthroughs".
The project comes atop Airbus' ongoing "Wing of Tomorrow" effort, through which it aims to develop wing technology for its next airliner. Separately on 22 September, Airbus said it had started assembling the first of three wing prototypes for that programme, which involves evaluating composite materials and new manufacturing and assembly processes.
Additionally, on 22 September aerostructures company GKN Aerospace said it delivered from its Bristol, UK site the "first composite spar and fixed trailing edge" components for Airbus's Wing of Tomorrow.
"The technology deployed sees a move away from traditional, pre-impregnated resin material to dry composite fibres that are injected with resin as part of the initial manufacturing process," says GKN. "This results in significant weight savings, removes one third of the production steps and significantly reduces energy consumption."
GKN's is also advancing manufacturing processes to ensure it can produce wing components with sufficient quality and speed to meet expected aircraft production rates.
Story updated on 22 September to mention GKN's delivery, and on 24 September to include details about timing and efficiency gains. Reporting also by Mark Pilling.