Airbus executives are increasingly optimistic the company can bring a hydrogen-powered aircraft to market in the mid-2030s and plan within several years to settle on the best propulsion architecture for such an aircraft.
"The bottlenecks are no longer in the technology of the plane," Airbus chief executive Guillaume Faury said on 12 September during an aerospace event in Washington DC. "We strongly believe that we will be ready by 2035 with a hydrogen plane. The technology will be ready."
Airbus in 2020 revealed three hydrogen-powered aircraft concepts as part of its ZEROe programme, and said it aimed to bring one to market by 2035.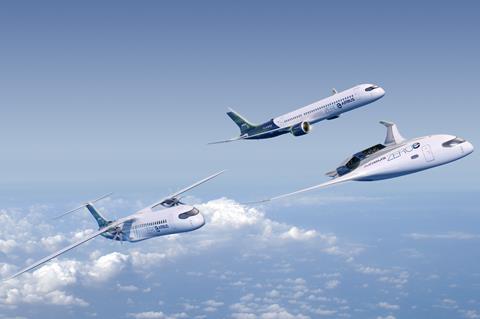 The European manufacturer is among several industry players that think hydrogen-powered aircraft could be viable in the coming years. Hydrogen emits only water when burned or used to produce electricity, giving it promise as a means by which the aviation industry can cut carbon emissions. Due to notable challenges, however, other players like Boeing doubt such designs will be ready in the near term.
Airbus Americas CEO Jeffrey Knittel says several years of evaluation has left Airbus more sure of the technology.
"We're going to make a decision on whether it's a fuel cell or a [direct-burn propulsion system]" in 2026 or 2027, Knittel says. "We will make a decision on production at that point in time."
Executives stress that, optimism aside, Airbus has not committed to developing a hydrogen-powered passenger airliner, saying the decision depends on factors partly or largely outside the company's control.
Those include unclear regulatory and certification standards, the need for hydrogen transportation and storage infrastructure, and the availability – at the "right price" – of green hydrogen produced using renewable electricity: "That's going to be where the challenge lies," Faury says.
Knittel says any initial hydrogen-powered aircraft would likely be on the "smaller" side, and that "long range" is among the toughest "challenges" associated with hydrogen propulsion.
Hydrogen has worse volumetric energy density than jet fuel, with four times the volume per energy unit. That means a hydrogen aircraft would need to carry more fuel than a conventionally powered aircraft to achieve the same range.
The two types of hydrogen-propulsion architectures under study by Airbus include a fuel cell system, which uses hydrogen to create electricity, and engines that directly burn hydrogen.
Airbus is developing the hydrogen-powered concepts at the same time it is working on development of a "relatively conventional" jet to replace the A320neo family of aircraft, the company's chief commercial officer Christian Scherer said in June.
Airbus's three ZEROe concepts include a 2,000nm (3,704km)-range blended-wing-body aircraft with seating for up to 200 passengers, a conventional-looking 200-passenger narrowbody aircraft with hydrogen-burning gas turbines and 2,000nm range, and a 100-passenger, 1,000nm-range turboprop, potentially powered by fuel cells.