The Federal Aviation Administration will soon require aircraft manufacturers to fully consider how various cockpit warnings might affect the ability of pilots to properly respond to failures.
The requirements are laid out in a US funding law that seeks to address many concerns brought forth by two Boeing 737 Max crashes.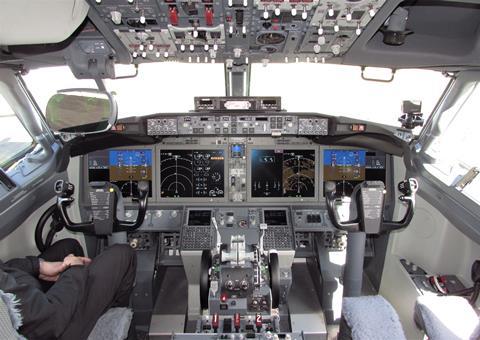 The law requires the FAA to adopt, within one year, a recommendation from the National Transportation Safety Board that applies to "system safety assessments".
Those assessments are part of a process through which aircraft manufacturers, when designing and certificating aircraft, assign risk levels to various system failures. The risk levels are based on assumptions about how pilots will respond to failures.
Within one year, the FAA must require that manufacturers' safety assessments "consider the effect of all possible flight deck alerts and indications on pilot recognition and response", the law says.
That provision applies specifically to safety assessments that address instances when pilots must take "immediate and appropriate… corrective actions" in response to "uncommanded flight control inputs".
The law also requires that manufactures take steps to ensure their designs are safe even when pilots respond to failures in unanticipated ways.
Additionally, within two years, new aircraft types must have improved flight crew alerting systems. Specifically, aircraft will need an alerting system that "displays and differentiates among warnings, cautions and advisories, and includes functions to assist the flight crew in prioritising corrective actions and responding to systems failures".
The measures seek to address ongoing concerns that pilots can become overwhelmed by, and struggle to properly respond to, failures of advanced aircraft systems.
The NTSB's report into the two Max crashes notes that Boeing's safety assessments for that jet "did not evaluate all the potential alerts and indications that could accompany a failure" of the Maneuvering Characteristics Augmentation System (MCAS).
"The assumptions that Boeing used in its functional hazard assessment of uncommanded MCAS function for the 737 Max did not adequately consider and account for the impact that multiple flight deck alerts and indications could have on pilots' responses to the hazard," the NTSB concluded.
Boeing declines to comment about the aircraft certification provisions in the law, signed on 27 December by president Donald Trump.
"The FAA is reviewing the certification language that was included in the funding bill and will work to implement the changes as directed by Congress," the agency says.