Brazilian airframer Embraer expects the world's airlines will require 5,500 aircraft with up to 150 seats in the coming ten years, as the industry reinvents itself after the historically disruptive coronavirus pandemic.
Passenger levels will likely return to 2019 levels by 2024, the San Jose dos Campos-headquartered company says during its ten-year market forecast presentation. Revenue-passenger kilometres will be about 19% lower over the next decade than previously projected.
But in this recovery, Embraer sees a unique opportunity for its new jets in the sub-150-seat capacity category to play a leading role in the global industry's restructuring.
"The fallout from the pandemic signals the beginning of a new industry cycle, with many unique aspects," writes chief executive Arjan Meijer in the company's Market Forecast 2020 report, published on 2 December. "Unlike the previous one, which was guided by a massive supply of capacity and a focus on lowest cost-per-seat, we foresee a cycle characterised by versatility, operating efficiency and profitability."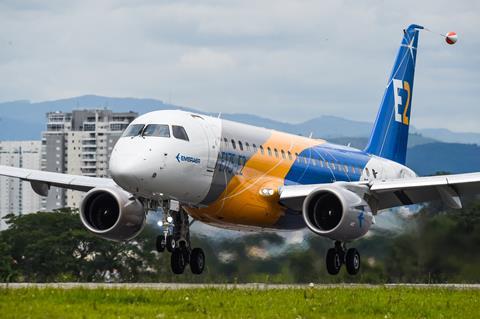 The outlook is based on several assumptions about the future of the commercial aviation industry, adds Embraer's vice-president of marketing Rodrigo Silva e Souza.
"The commercial aviation industry will be smaller, and when it comes back we believe the growth rate will be significantly lower than what we had before," he says. "It will also have a different shape. Changes in the global trade flows and passenger behaviours will lead to changes in air travel overall."
Of the 5,500 anticipated deliveries, 1,080 will be turboprops and 4,420 will be jets, Embraer predicts. About three quarters will be replacement aircraft, and net growth will be about 25%, according to the forecast.
Geographically, just under one third of those 5,500 airframes, or 1,710, will go to the Asia-Pacific region, and another 29%, or 1,600, will go to North America. European customers will take about 1,350 aircraft, or 25% of the total, and Latin America will account for about 9%, or 510 aircraft. The remaining 330 aircraft, or 6%, will go to Africa and the Middle East, Embraer predicts.
The main drivers in all regions will be right-sizing fleets for the new reality in air travel following the global health crisis, Silva e Souza says. That means bringing in smaller and more-efficient types to allow flexibility when planning airline networks and schedules.
Shifting passenger travel habits will also broadly influence air travel in the long term. New technologies such as video conferencing may take a long-term bite out of business travel, while companies could move operations away from large and expensive urban centres, since more employees are working from home.
Another trend will be increased regionalisation, and less reliance on global supply chains that had been all the rage in years past, Embraer says. This is partly due to coronavirus-driven travel restrictions.
"Expect demand to be less for long-haul travel and stronger for regional travel," the company writes in its report. "That dynamic will create new interest in secondary, less-populated destinations which, in turn, will open new opportunities for air service with smaller-capacity aircraft."
In China, the market will move more to a hub-and-spoke model, and the rest of the continent will likely see more point-to-point connections.
In Latin America, infrastructure projects will drive demand for improved air connections between far-flung cities across the vast continent, where Embraer's jet segment could sell strongly, he adds.
But the economic effects of the crisis on lower-income populations could leave some people less able to afford air travel, dampening demand.
In Europe, environmental concerns are top of mind, and will likely play a larger role in that continent's aviation market growth. However, Europe is not the only region where this customer perception is growing in importance.
"Passengers [everywhere] are beginning to be more conscious, and when they fly they look for more eco-friendly solutions," Silva e Souza says. That will accelerate the replacement of older and less-efficient aircraft with, for example, Embraer's new E2 family.