US regional air mobility company Ampaire has acquired Talyn Air, a start-up developing electric vertical take-off and landing (eVTOL) technologies inspired by two-stage rockets.
Both Southern California-based companies confirm on 20 July that Ampaire has acquired "substantially all of the assets of Talyn", including eight patents and seven government contracts with "sole-source follow-on rights" held by the smaller start-up.
"With the acquisition of Talyn, Ampaire continues to multiply applications for its pioneering hybrid electric propulsion systems," Ampaire says.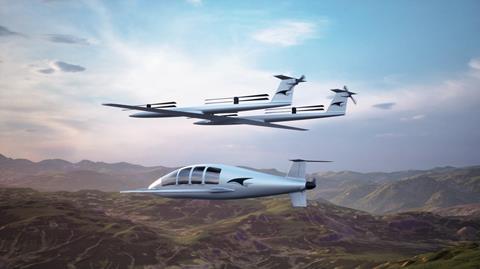 "Adding Talyn to Ampaire's already strong technical foundation in hybrid-electric propulsion will… allow the company to accelerate our reach into the valuable drone and eVTOL sectors for both commercial and defence applications," says Kevin Noertker, chief executive of Ampaire.
"We will be well-positioned to offer customers the most experienced hybrid-electric propulsion capabilities in the industry across drones, fixed wing and eVTOL" aircraft, he says, adding that growth through acquiring companies is a major part of Ampaire's strategy to "lead the electrification of aviation".
Los Angeles-based Talyn, founded in 2019, claims to have demonstrated "advanced aircraft technologies in flight". Its website shows a two-vehicle design involving a lift vehicle that carries a cruise aircraft to altitude using "100% battery".
The conceptual cruise vehicle would require pairing with another lift vehicle in order to land "on any helipad-sized platform", the company says. It would be capable of transporting 454kg (1,000lb) payloads more than 483km (261nm), reaching speeds of up to 300km/h (174kt).
"We are excited that our technology and vision, combined with Ampaire's industry-leading solutions, will provide game-changing capabilities to the aviation industry," says Jamie Gull, co-founder and CEO of Talyn.
Gull and co-founder Evan Mucasey are both former SpaceX engineers. According to the company's website, Talyn is also flight-testing prototypes of an autonomous cargo drone system.
Ampaire's hybrid-electric power trains, retrofitted onto general aviation aircraft and regional turboprops, have flown more than 18,000h to date, the company says.
Noertker told FlightGlobal in February that he believes his company's hybrid-electric propulsion system serves as a half-step to fully electric regional aviation, without the risk of developing new classes of aircraft.