Electric aircraft specialist Ampaire has flown a second Cessna 337 Skymaster powered partly by an electric motor, a development coming ahead of planned airline demonstration flights before year end.
Ampaire's 337 conversion programme involves replacing one of the six-seat aircraft's two piston engines with an electric-propulsion system.
The second 337 "technology demonstrator" (registration N337EE) made its maiden flight under hybrid power on 10 September from California's Camarillo airport, northwest of Los Angeles. The flight lasted 35min, according to Hawthorne, California-based Ampaire.
Ampaire intends to conduct a series of flight tests using the aircraft, which it dubs "Hawaii Bird", before shipping the 337 to Hawaii. There, Ampaire plans to conduct demonstration flights in partnership with Hawaiian regional carrier Mokulele Airlines, a brand of Southern Airways Corporation.
With Mokulele pilots at the controls, Ampaire intends to "gain real-world flight experience" with the converted Cessna.
"Our flights with Mokulele will be an opportunity to test both the aircraft and the infrastructure required to advance electric aviation," says Ampaire chief executive Kevin Noertker.
Cessna 337s traditionally have two avgas-burning Continental IO-360 piston engines producing about 200hp (149kW) each and configured in a push-pull design. One engine drives a forward-facing prop, the other drives an aft-facing prop.
Ampaire's first 337 hybrid demonstrator made its first flight in June 2019. The company calls that aircraft a Cessna 337 "Electric EEL".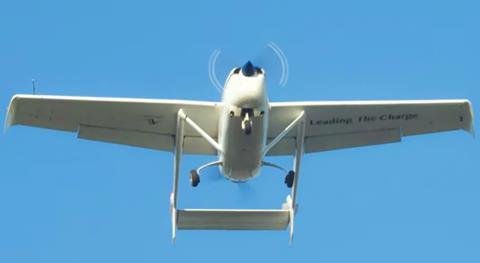 Ampaire's second aircraft is a "refined" version of the first modified 337. Instead of the 337's traditional IO-360 aft, the second demonstrator has a more-powerful, avgas-burning 510hp Continental IO-550 powerplant in the rear.
That engine has been paired with a forward electric motor that can throw off 268hp. However, Ampaire says it limited the electric engine in the 337 to 161hp.
That is a swap from the configuration of the first demonstrator, which had a gas engine in front and the electric system aft.
The company also modified the second test aircraft by moving the battery back from inside the cabin to the "underside of the fuselage", where it is enclosed in a "composite aero-optimised shell".
That change "frees cabin space for flight-test engineers, test equipment and observers", the company says.
The company also outfitted the second demonstrator with new cockpit instruments and power controls that allow for improved monitoring of both powerplants.
"Since flying our first electric EEL last year, we have made substantial improvements to the powertrain for efficiency, increased performance, reliability and safety," says CEO Noertker. The technology "is scalable", he adds, meaning it could be integrated into scheduled charter and passenger and cargo aircraft.
COMMUTER RANGE
Ampaire says the engine-motor combination gives the second demonstrator the ability to cruise for 1h15min at 120kts (224km/h), while providing an additional 30min of reserve power. That equates to range of 150nm, excluding reserves.
By comparison, production variant 337s with two piston engines have a range of about 1,000nm, depending on operating conditions, according to various online owners' manuals.
But Ampaire says the modified 337's capabilities are ideal for Mokulele, which flies relatively short flights between Hawaii's islands. Mokulele, via parent Southern Airways, operates those flights using Cessna 208B Caravans.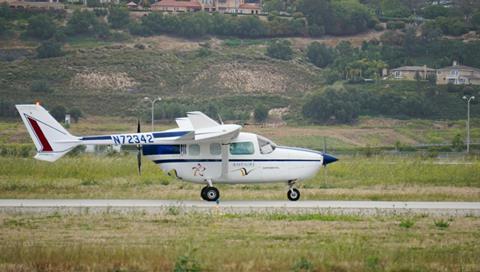 The company plans to offer two EEL variants. One will be powered by the IO-550 piston engine paired with a 215hp electric motor. The other would have a diesel-burning, 300hp Continental CD-300 piston engine paired with the same electric system, says Ampaire.
The company intends to offer pressurised and unpressurised variants, and cabins outfitted with four or six seats. The hybrid aircraft will burn as little as 38 litres (10USgal) of fuel hourly in cruise flight and "be cost competitive with comparable current-production piston twins", says Ampaire.
Story corrected on 16 September to note that the second demonstrator had an forward electric engine and aft gas engine.