Dominican Republic-based Arajet, the corporate successor to now-defunct Flycana, has ordered 20 Boeing 737 Max 8-200s and taken options to purchase an additional 15 Max jets.
Boeing disclosed the deal on 14 March but says it finalised the purchase order in January.
Separate from the newly disclosed order, Arajet holds agreements to lease another five 737 Max, meaning its eventual fleet of the Boeing narrowbodies could reach 40 aircraft.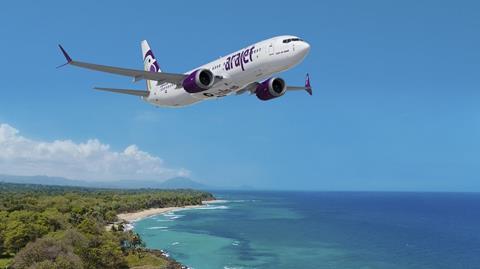 "The efficient Boeing 737 Max, together with financial and operational support from our partners at Griffin and Bain Capital, gives us the solid foundation necessary to provide flights at affordable prices to travellers in the region," says Arajet executive officer Victor Pacheco.
The carrier received its first 737 Max – a baseline Max 8 variant – in March from lessor Griffin Global Asset Management. Arajet did not respond immediately to questions about its fleet plan.
From its hub in Santo Domingo, Arajet's 737 Max will have sufficient range to "serve a large number of traditional and under-served markets in the continental United States, Brazil, Colombia and beyond", Boeing says.
The 20-aircraft order calls for Arajet to acquire 737 Max 8-200s, a high-capacity variant with additional exit doors that Boeing says can carry up to 210 passengers.
Arajet is an operating subsidiary of Dominican Wings SA and part of the same corporate family that once operated Flycana.
In 2021, the Dominican Republic's civil aviation regulator approved Dominican Wings, via Arajet, to operate 30 routes, including those to Aruba, Canada, Colombia, Costa Rica, Cuba, Guatemala, Haiti, Mexico, Panama, Peru, and Trinidad and Tobago.
The carrier has said it intends to begin flying in 2022. It is not yet selling tickets on its website.