Air taxi developer Archer Aviation has flown its first "full transition" from hover to forward flight with its two-seat prototype Maker – a significant milestone in the start-up's development of a bigger prototype, Midnight.
Like many competitors, San Jose-based Archer has a vision for a ride-sharing service using electric take-off and landing (eVTOL) aircraft – focusing on flying passengers less than 50 miles (80km) – and has ambitions of becoming the first advanced air mobility (AAM) start-up to achieve certification with the US Federal Aviation Administration.
Archer completed the transition flight on 29 November, and disclosed the news on 1 December.
"From day one, Archer's strategy has always been about finding the most-efficient path to commercialising eVTOL aircraft," says Adam Goldstein, Archer's founder and CEO. "The data and experience we've gathered from Maker's rigorous flight-testing program has been invaluable to the development and certification path of Midnight, and lends further confidence to our belief that Archer will be the first company to certify an eVTOL aircraft in the US with the FAA."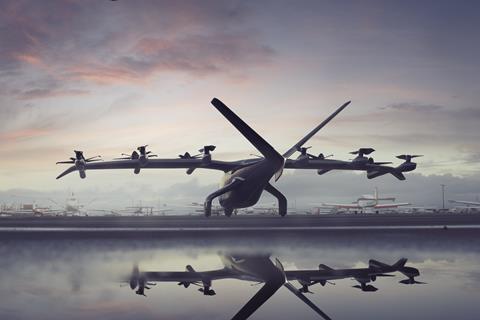 Maker is configured with 12 propellers on a fixed wing that enable vertical take-off and landing; the front six propellers tilt forward to provide forward propulsion. Archer released a video of the flight, though the video does not show the full transition from hovering to forward motion.
"The video does, however, show the moment where the tilts lock forward, which is the key to achieving full transition flight," Archer told FlightGlobal on 2 December.
During the flight, Maker took off vertically and climbed to an altitude of about 240ft. Then, the tilt propellers were locked in "cruise" position for the first time and the aircraft flew at 91kt (168 km/h). "Maker was fully wing-borne at this speed and flying like a conventional airplane," Archer says. The aircraft flew a pattern, decelerated to a hover and landed vertically.
The test flight comes less than 12 months after Maker first hovered off the ground. "Maker is one of a small number of full-scale eVTOL aircraft in the world to achieve this feat," the start-up says.
Hovering in Maker requires about three times more power than forward flight. "Flying the majority of a trip in wing-borne flight is critical to maximising aircraft efficiency," Archer says. However, the transition between hovering and conventional flight is "traditionally the most difficult to fly due to the rapidly changing aircraft configuration, hard-to-predict aerodynamic interaction effects and the associated control-law changes".
Maker has reached the end of its life as a demonstrator aircraft, Goldstein told FlightGlobal on 16 November: "We used Maker to validate a lot of the technology… The tilt propeller system, the aero model, the flight controls. And now it's kind of near the end of its campaign."
The company is turning attention to building a new, bigger prototype called Midnight – the sleek airframe for which it unveiled at a municipal airport in Salinas in late November.
With seating for four passengers and a pilot, Midnight will have 12 wing-mounted rotors and a V-tail, similar to Maker. The aircraft will also be designed to take off vertically, with its six front rotors tilting from vertical to horizontal positions for forward flight.
Midnight will be designed to operate back-to-back trips over distances of about 20 miles, with charging times of approximately 10min between flights, the company says. It will be able to carry payloads exceeding 450kg (1,000lb). Archer hopes it will fly for the first time in the first half of 2023.
"Looking forward to the commercialisation of Midnight, we'll continue to draw upon the incredible findings and lessons learned from Maker's flight-testing programme," Goldstein says.
On 10 November, Archer said Midnight will be the foundation of an airport-to-downtown urban air mobility route in the New York City metropolitan area – part of a partnership United Airlines. The route from Newark's Liberty International airport to downtown Manhattan is tentatively set to launch in 2025.
Story headline clarified on 5 December to note the flight involved a transition from vertical to forward flight. Maker's flight was not its first involving forward flight.