A pair of leading air taxi developers on opposite coasts of the USA – California's Archer Aviation and Vermont's Beta Technologies – are working together to "spur the widespread roll-out" of shared charging infrastructure for electric aircraft.
Additionally, Archer has purchased several of Beta's fast-charging systems for operating its in-development electric vertical take-off and landing (eVTOL) aircraft, the companies said on 7 November.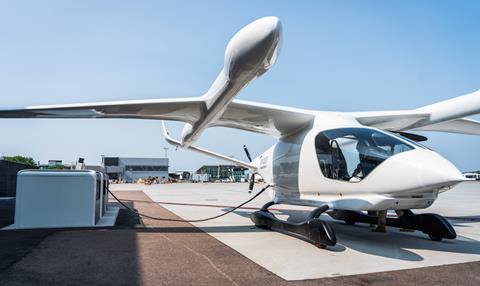 Fast-charging capabilities "ensure rapid turnaround times between flights", says Adam Goldstein, Archer's chief executive. "A widespread, fast-charging system is critical to ensuring electric air taxis reach scale in the coming years, and this collaboration between two industry leaders is an exciting step towards achieving that."
Beta has previously stated that its charging system tops off its aircraft's batteries in under 1h.
Archer is using two of Beta's "Charge Cube" systems at its flight-testing facilities in California, as well as several "Mini Cube" mobile charging stations, "which Archer plans to rapidly deploy as needed". The San Jose-headquartered company is preparing to launch an extensive flight-test programme with its electric aircraft called Midnight.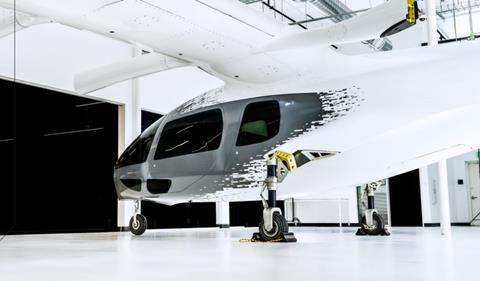 Beta's charging systems are deployed at 14 locations on the East Coast of the USA and it plans to install a further 55 charging stations "along the East and Gulf Coasts, as well as at Archer's facilities in California".
"Gaining access to Beta's leading electric aviation charging system and network through this collaboration is another critical component of Archer's plan to create the most efficient and scalable path to market for Archer's eVTOL aircraft," the companies say.
Archer and Beta also call for a "unified charging standard", pointing to the Combined Charging Standard, which they describe as a "multi-modal, interoperable standard employed by the top OEMs" of electric vehicles, including Beta.
"When we designed our chargers, we saw an opportunity to support the entire sector by using an already peer-reviewed standard," says Kyle Clark, Beta's chief executive.
"The adoption of a unified charging standard will help promote electric aviation's development at scale," adds Pete Bunce, chief executive of the General Aviation Manufacturers Association. "Enabling electric aircraft and electric ground vehicles from different manufacturers to share charging infrastructure will help reduce the costs of electrifying existing infrastructure."
Both Archer and Beta recently passed major milestones on their respective quests for air taxi certification. Archer's Midnight recently got airborne for the first time, while Beta delivered its first aircraft to the US Air Force, landing at Eglin AFB in Florida after flying more than 1,700nm (3,150km) through 12 states along the East Coast.
The Alia delivered to the USAF is a conventional take-off variant, but Beta is also developing an eVTOL version of the aircraft. The company is pushing for FAA certification of Alia and expects the all-electric aircraft to enter service in 2025 or 2026.
Archer, meanwhile, plans to launch revenue flights in 2025.
In another example of collaboration among competing US air taxi companies, Archer and Boeing-backed Wisk Aero recently settled a long-running lawsuit and agreed to work on developing autonomous flight technologies together.