Archer Aviation and United Airlines intend to launch their first airport-to-downtown urban air mobility (UAM) route in the New York City metropolitan area from 2025.
Silicon Valley-based electric vertical take-off and landing (eVTOL) developer Archer said on 10 November that the route, to be operated by its new four-seat production aircraft "Midnight", will connect Newark's Liberty International airport in New Jersey to Downtown Manhattan Heliport, located at the southern tip of Manhattan near the city's financial centre.
The flight, covering a distance of about 7nm (12.6km), will take "less than 10 minutes", Archer says.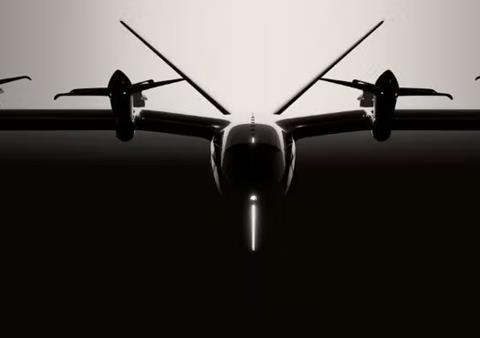 "We're excited to be confirming New York as the first of many routes we'll be announcing alongside United as we work to build out our national UAM network," Archer chief executive Adam Goldstein says.
"The goal of Archer's electric air taxi network is to provide passengers with safe, quick, quiet and cost-effective transportation to and from [Newark]," Archer adds.
Archer is due to unveil its Midnight air taxi next week in California. The company has said it will also disclose details about its commercialisation strategy and Federal Aviation Administration certification plan. The unveiling, originally expected for next year, follows a successful preliminary design review of the four-passenger aircraft.
Archer claims Midnight – for which United has already made pre-delivery payments of $10 million for 100 airframes – will be able to carry around 450kg (1,000lb) of payload and be charged in 10min.
In February 2021, United committed to purchase up to 200 Archer air taxis as part of a deal that involved United's regional airline partner Mesa Airlines. United has said an unnamed "partner airline" will operate the air taxis.
"Once operational, electric air taxis will fundamentally change how United customers experience comfort, convenience and efficiency during their commutes to the airport," adds Michael Leskinen, president of United Airlines Ventures, the carrier's technology investment arm. "Archer's New York-to-Newark route marks another important benchmark towards providing a carbon-neutral and safe commute that drastically reduces the travel time and produces a fraction of the sound emitted by helicopters."
Archer says its initial routes will connect airports to city centres. Once established, the company intends to launch "branch routes" to surrounding communities.