US urban air mobility start-up Archer Aviation has added Chicago to its list of 2025 launch cities, with an airport-to-downtown route planned to be operated by its in-development "Midnight" aircraft.
The California-based electric vertical take-off and landing (eVTOL) developer said on 23 March that the air taxi route would be Chicago's first. The route would connect Vertiport Chicago – located near the city's central business district – to O'Hare International airport, which is a major hub for its partner United Airlines.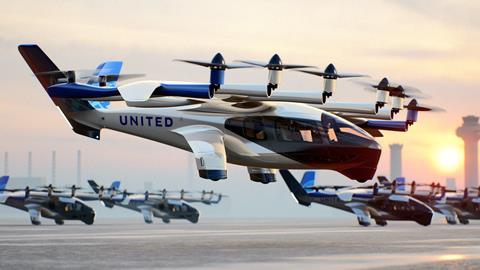 United passengers would be transported to and from O'Hare in about 10min, Archer says, adding that "a similar trip by car can take upwards of an hour… in rush hour traffic". Midnight is designed to seat one pilot and four passengers, carry 450kg (1,000lb) of payload and be charged in 10min.
"We are thrilled to add Chicago to our growing list of initial launch cities as we continue to solidify our [urban air mobility] network plans," says Adam Goldstein, Archer's founder and chief executive. "We are looking forward to working with state and city leaders to bring an innovative transportation solution to the city of Chicago and its surrounding communities."
Vertiport Chicago was selected "for this airport-to-city-centre route because of its unparalleled convenience, access and service", Archer says. Midwest US utility company ComEd will work with Archer to establish the power infrastructure necessary to support eVTOL operations in Chicago.
Archer has previously announced similar planned downtown-to-airport routes in Miami, New York and Los Angeles. Such "trunk" routes would allow for future "branch" routes that connect to surrounding suburbs and smaller communities, the company says.
"Anywhere that United has a big hub will likely be a big target for Archer," Goldstein tells FlightGlobal on 20 March. "The reason airports are interesting is because the known demand is well understood. We already know people will go from here to here in Ubers… If you could do it for the same price but get there in five minutes, safer, would you?"
In February 2021, United committed to purchase up to 200 Archer air taxis as part of a deal that involved United's regional airline partner Mesa Airlines. United has already made pre-delivery payments of $10 million for 100 airframes.
"Both Archer and United are committed to decarbonising air travel and leveraging innovative technologies to deliver on the promise of the electrification of the aviation industry," says Michael Leskinen, president of United Airlines Ventures. "Once operational, we're excited to offer our customers a more sustainable, convenient and cost-effective mode of transportation during their commutes to the airport."
Goldstein tells FlightGlobal that his company's prototype Midnight aircraft is in the final stages of production and is expected to begin ground testing within 30 days. The company is aggressively pursuing a type certificate with the intention of launching commercial operations in 2025.